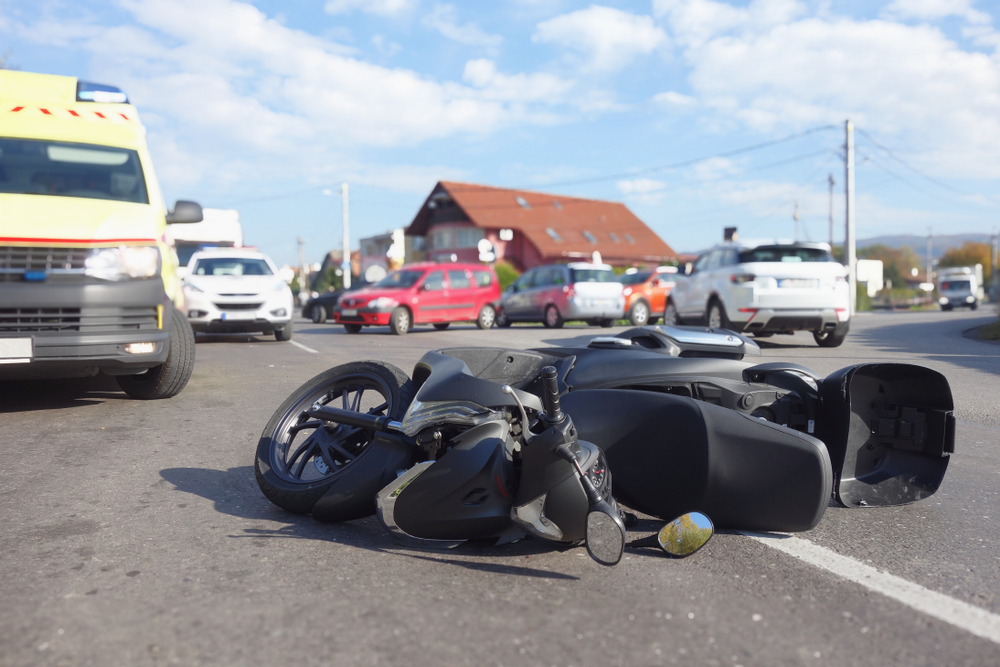 Just like any other bustling city in Southern California, the streets of Colton are always buzzing with activity, and motorcycles are no exception. If you or someone you care about has been involved in a motorcycle accident, it would make sense to reach out to a Colton motorcycle accident Lawyer. Accidents are never welcome, but unfortunately, they can happen unexpectedly. 
The aftermath of a motorcycle accident on Colton's busy streets can be devastating, leading to severe injuries, mounting medical expenses, and emotional distress. That's why it's crucial to seek the help of a knowledgeable and experienced Colton motorcycle accident attorney. These legal experts can navigate the complex legal process, fight for your rights, and assist you in obtaining fair compensation for the damages you've suffered.
Here at Krasney Law firm, we understand the unique difficulties faced by victims of motorcycle accidents. Our dedicated team of skilled attorneys specialize in handling motorcycle accident cases in Colton, and we are committed to advocating for our clients' rights.
Why Motorcycle Accidents
Motorcycle accidents can happen for various reasons including:
Failing to follow traffic laws 
Drivers not fully focused on the road 
Lane Changing and Merging
Excessive speed and dangerous driving behaviors 
Poor road conditions or unexpected obstacles
Motorcyclists also face unique challenges compared to other drivers, which can increase the likelihood of accidents. These include:
Motorcycles are often harder to spot for other motorists.
Motorcyclists have less physical protection in case of a collision.
Poor Balance and Stability
Bad Use of Maneuverability
According to the California Highway Patrol's SWITRS data for 2021, there were a total of 13,381 motorcycle accidents resulting in injuries or fatalities in the state. In 2020, there were 539 motorcycle-related deaths in California. Among the counties, Los Angeles had the highest number of motorcycle accidents in 2021, with 2,803 casualties.
The National Highway Traffic Safety Administration (NHTSA) reported that in 2021, there were 5,932 motorcycle fatalities in the United States. This accounted for 14 percent of all traffic fatalities, marking the highest number of motorcyclist deaths since data collection began in 1975. The number of motorcyclist fatalities in 2021 increased by 8 percent compared to 2020, reaching a total of 5,506 deaths.
According to the NHTSA, motorcyclists are 24 times more likely to be involved in fatal accidents compared to car occupants. Research also indicates that approximately 75 percent of motorcycle accidents involve collisions with other vehicles. 
Why You Need A Motorcycle Accident Lawyer
After a motorcycle accident, there are usually two main things that get messed up: the motorcycle itself and your personal well-being.
Now, personal injuries can really vary in severity and, in some cases, they can even be life-threatening. You might end up with some road rash which can range from not-so-bad to very severe, a few facial fractures, or even broken bones and burns. It can go from minor stuff to more serious issues like limb amputations, spinal cord injuries, paralysis, or traumatic brain injuries. 
According to the Government Accountability Office, the average cost for emergency and ICU treatment of fatal injuries suffered by motorcycle riders is around $1.2 million. Non-fatal crashes, on the other hand, can cost anywhere between $2,500 and $1.4 million.
On average, motorcycles can cost you anywhere from $4,000 to $20,000. If you're into the fancy high-end models, purchase costs can go as far as $60,000. When it comes to repairs after a front-end collision, the bill can range from $500 to $5,000. The final amount really depends on:
how bad the damage is. A small dent won't hurt your wallet as much as a major crack.
if you ride a pricey motorcycle, repairs are going to be more expensive compared to more affordable options.
Dealing with the costs of motorcycle repairs and personal injuries all by yourself after an accident can be seriously overwhelming. You don't want to drain your bank account completely. That's why it's crucial to seek compensation and make sure you get what you deserve.
A motorcycle accident lawyer plays a vital role in helping victims of accidents seek justice and receive the compensation they deserve. They have extensive knowledge in:
Examining the accident's details, gathering evidence, and determining who is at fault.
Providing expert advice on the available legal options and the potential outcomes.
Assisting with the process of filing insurance claims and ensuring that all necessary documents are compiled and submitted.
Acting as a representative for the client in negotiations with insurance companies to secure a fair settlement.
Advocating for the client's rights and representing their interests in court.
Despite the Financial Conduct Authority (FCA) rules that require insurers to handle claims reasonably and settle them promptly, insurance companies often find ways to reject claims or offer minimal payouts. However, with the expertise of a skilled Colton motorcycle accident attorney, you can be confident that they will deal conveniently with the insurance companies and their tactics. They will work diligently to ensure you receive the maximum compensation you deserve.
Krasney Law Practice Areas
We specialize in various practice areas related to motorcycle accidents in Colton, including:
Holding the responsible parties accountable for the accident in line with Colton's regulations.
Representing clients who have suffered a range of injuries.
Assisting families who have lost a loved one in a fatal motorcycle accident in pursuing wrongful death claims.
Handling the complex process of insurance claims and negotiations on behalf of our clients.
Providing strong legal representation in court if a fair settlement cannot be reached through negotiation. 
Why Choose Krasney Law 
The Krasney Law Firm has an impressive history of effectively advocating for clients involved in motorcycle accidents. Our team of talented lawyers brings over 25 years of specialized experience in handling these types of cases. We possess a profound comprehension of the complexities associated with such incidents, enabling us to secure positive results for our clients.
At Krasney Law Firm, we place great importance on client contentment and go the extra mile to offer individualized support. Our empathetic approach ensures that our clients' voices are heard, they receive the necessary assistance, and they feel confident in our ability to handle their case with the utmost care and professionalism.
How We Attend to Motorcycle Accident Cases
At Krasney Law Firm, we take a thoughtful approach to building strong cases for motorcycle accident claims. Here's how we do it:
We carefully analyze the details of each case.
Next, we create personalized legal strategies.
We then collaborate with experts to develop comprehensive and well-rounded legal arguments.
While we always strive for fair settlements through negotiation, we are not afraid to fight aggressively on behalf of our clients. 
We have an unwavering commitment to thorough preparation, persuasive argumentation, and dedicated representation. This ensures that our clients' rights are safeguarded and that they have the best possible chance of achieving a favorable outcome.
Client Resources and Support
At Krasney Law Firm, we believe in starting things off on the right foot. That's why we offer a complimentary initial consultation to all prospective clients. During this meeting, we take the time to delve into the specifics of your case, address any inquiries you may have, and give you an initial evaluation of your legal options. It's an excellent opportunity for you to express your concerns, gain insight into our services, and determine if we're the perfect fit for your needs.
If you're looking for the support and legal representation necessary for your motorcycle accident case, we encourage you to get in touch with us at Krasney Law Firm. Our dedicated team is eager and prepared to assist you. You can reach out to us by:
 – Phone: (909) 380-7200
 – Online contact form: Click here
Don't wait to seek the justice and compensation you deserve.