Leading Bone Fracture Lawyers in California
If you've suffered fractured bones because of someone else's negligence, whether in a car accident or another type of accident, contact a top bone fractures lawyer at Krasney Law to represent you. We can help get the monetary damages you need to recover fully. We have many years of experience in personal injury law and have the expert attorneys and staff necessary to bring your case to a satisfactory result. We can sue the parties responsible for your injuries or we can pursue a just and fair settlement out of court. We are a leading personal injury law firm representing injured clients all over California. For any questions regarding your injury, please do not hesitate to call us at (909) 380-7200 for a free consultation.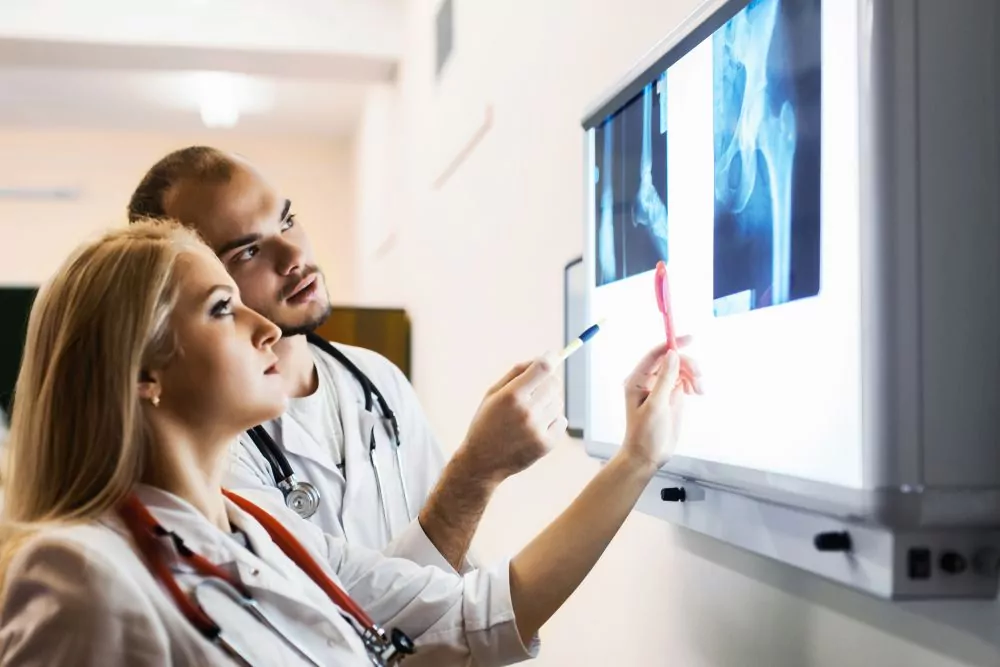 How Can We Help With Your Bone Fracture?
Our bone fracture injury lawyers in California can help if you suffer a fractured bone because of someone else's negligence. We can help you with your claim for compensation from the responsible party for the damage or injury caused. If you have a fractured bone because someone else was careless or negligent, call the team at Krasney Law for a complimentary consultation.
We have personal injury attorneys and investigators capable of dealing with insurance companies, who try to pay as little as possible, even less than what you have coming. Also, some bone fracture injury victims may need a lawsuit to recover damages to pay medical expenses and get the treatments they need.
Krasney Law's expert attorneys and staff in California can investigate the circumstances of a bone fracture and sue for maximum damages to see that our clients get what they need to cover medical bills, lost wages and pain, and suffering. Or, we can negotiate with the insurance company and see that you get a good deal.
CALL US TODAY (909) 380 – 7200
Common Complications of Fracture Injuries
Following an accident/injury could involve a variety of different implications. The risk of complications varies greatly with the severity and location of the fracture, quality of treatment and care, and the complexity of the fracture.
Here is a list of some common bone fracture complications that can follow a bone fracture:
Nerve and tissue damage: A bone fracture can cause permanent damage to the surrounding tissues, skin, and nerves leading to chronic nerve pain without proper care.
Respiratory Problems: When someone who suffers a fracture in the chest or ribs, there is a risk of developing breathing problems such as a painful cough, bruising or sharp pain in the chest while breathing.
Improper bone Healing: In some cases, the initial injury may not cause damage, but the healing process does. If the healing process is delayed or cared for improperly, you may experience chronic pains, limping and even fever.
Vascular damage: Some car accident victims who suffer a fracture may experience vascular damage such as disruption of blood supply to the femoral artery. If left untreated this type of injury can be fatal.
These are some of the complications that can follow a bone fracture after an accident out of many. Some of these are serious and can cause permanent damage if not treated promptly. No matter the case, your health is number one priority. Following any fracture, make sure to see a health care specialist as soon as you can.
What Should You Do in Case of a Fracture?
It is very important that you consult a doctor immediately. The next thing you should do is retain the legal counsel of a knowledgeable California fracture injury attorney.
A California bone fracture attorney at Krasney Law will ask you questions to find out how your fracture injury happened, the location and what you were doing there and any medical treatments. Be honest with your lawyer. If you have access to witnesses, newspaper articles or accident reports, gather them and provide them to the attorney.
What Not Do In Case of a Bone Fracture
If you encounter someone at the scene who was involved in an accident that resulted in your fractured bones, be cooperative and courteous. But do not apologize or admit to any guilt. If you do you may be conceding you are liable.
Talk only to your bone fracture lawyer, the police and your own insurance company about the accident. If another driver's insurance company calls you, refer them to your bone fracture attorney or your own insurance company.
What To Do After You Go Home
When you go home or soon after, contact your insurance company, and don't lie or they may deny coverage if you're caught. Obtain a copy of any police report.
If the fracture injury occurred in an automobile or on a bicycle, photograph your vehicle and any damage to it. It can help a case to show the vehicle before the accident, too.
Make sure to record visits to doctors and other medical practitioners, the drugs and treatments they prescribe and what you spent on them. Pain and suffering are harder to quantify and qualify, but take notes on how you feel physically and mentally because of the impact of the injury.
Also write down all time lost at work, note what activities at work or home that you can no longer participate in, and tell how the aftermath of the injury has affected your family life.
When Can It Be Considered Neglect?
A person who injures another party may be considered negligent when he acts in a careless and thoughtless manner. Negligence comes in two forms: when the defendant failed to do something that would have prevented the accident, or when the defendant did something he should not have done.
California law requires drivers and property owners to be careful, and they may be considered negligent when they fail to act carefully. A person bringing a lawsuit must prove he was injured through the defendant's actions, and that he suffered injuries or losses.
Hire A California Bone Fracture Lawyer Today!
To get a free evaluation of your case, speak with a bone fracture attorney who understands the complexities of fracture claims. We have been winning big awards for our clients for years. We have experienced attorneys and expert staff who will go all out to represent you for maximum damages. Call the personal injury team at Krasney Law for a free initial consultation. We will charge you nothing for an initial consultation, and we may arrange payment on a contingency basis. That is, we don't get paid unless you get paid by either accepting a settlement or we go to trial and win your case.