Hire Krasney Law—California Pedestrian Accident Lawyers Today!
Working with an experienced California pedestrian accident attorney on your case can offer you many advantages. Personal injury attorneys know how to handle insurance companies, so they will know how to get you a deserving compensation for your injuries. Following a pedestrian accident, you might not be in a state of mind to organize the details of your personal injury case. Attorneys, like those at Krasney Law, have a track record of handling cases like yours and know exactly what laws would apply for your particular case. They will take time to learn the details of your case and help to get you a favorable settlement.
To get a free evaluation of your case, speak with a California pedestrian accident attorney who understands the complexities of pedestrian accidents claims. We have been winning big awards for our clients for years. We have experienced pedestrian accident attorneys and expert staff who will go all out to represent you for maximum damages. Call the team at Krasney Law for a free initial consultation. We will charge you nothing for an initial consultation, and we may arrange payment on a contingency basis. That is, we don't get paid unless you get paid by either accepting a settlement or we go to trial and win your case.
Our pedestrian accident attorneys handle all different cases of accidents in California, even including those caused by the negligence of another person who:
Injured you from speeding or driving recklessly
Ignored a stop light or sign
Failed to yield
Distracted driving
Driving under the influence
If you've been injured in a pedestrian accident, turn to Krasney Law for an experienced California pedestrian accident lawyer to navigate the complicated laws of California. Our personal injury lawyers can help you recover the maximum amount in damages to help you as much as possible in the face of negligent or careless drivers and their insurance companies.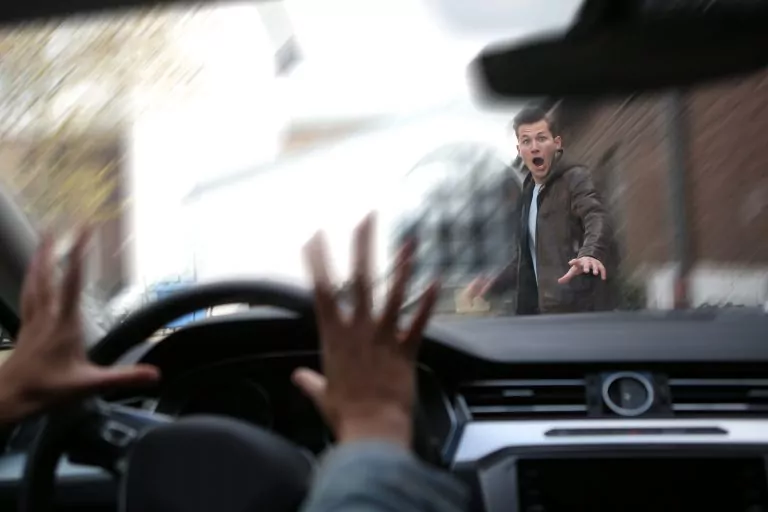 How Can Our Pedestrian Accident Lawyers Help?
If you are an injured pedestrian, we can help you with your claim for compensation from the responsible auto driver. If you find yourself in this situation, call the pedestrian accident lawyers team in California at Krasney Law.
We have California pedestrian accident lawyers and investigators capable of dealing with insurance companies, who try to pay as little as possible, even less than what you have coming. Also, some pedestrian accident victims may need to file a lawsuit to get the insurance company to pay. Keep in mind, getting you back to good health is the No. 1 priority.
Krasney Law's expert California pedestrian accident attorneys and staff can investigate the circumstances of an accident and file suit for maximum damages to see that our clients get what they need to cover medical bills, lost wages and pain and suffering. Or, we can negotiate with the insurance company to get you a fair settlement in exchange for your injuries.
Statistics on pedestrian accidents in California
In the US, the highest number of fatal pedestrian accidents occur in the state of California. Evidence from the California Department of Public Health indicates that pedestrian fatality increased by 11% from 2007 to 2013 in the state. The year 2013 recorded over 225,000 injuries to pedestrians due to accidents in California.
Research shows that Los Angeles comes as the second city after New York City for the number of pedestrian fatalities in the country. Between 2007 and 2013, more than ⅕ of all accident related deaths involved pedestrians. Nearly ⅓ of all children who died in accidents during this period were pedestrians. Adults aged 65 years and older made up about ⅓ of all pedestrian accident deaths.
How do pedestrian accidents happen in California?
Not every pedestrian accident happens due to collision with vehicles. Factors like skateboarding on the sidewalk, crowds at street events, passengers opening doors of parked vehicles, fights on streets, etc. can cause such accidents.
It is important to remember that showing negligence in a pedestrian accident can make it difficult for you to fight your case. If you were injured in such an accident, you have to demonstrate that someone else was negligent in causing your accident or violated the pedestrian laws in California. As an injured victim, you need to show that:
The defendant owed you a duty of care
The defendant breached that duty because of negligence
The defendant's negligence played a major role in causing injuries to the pedestrian
Below are some of the most usual scenarios involving pedestrian accidents in California.
Biking on the sidewalk
Pedestrians might not like to share the sidewalk with bikes. However, whether a bike is able to operate on a sidewalk depends on the city. Some places in California allow biking on sidewalks while other parts consider it a violation. In either situation, if a bicyclist has shown negligence and caused an accident, the bicyclist can be held liable for any pedestrian injuries.
In cases where a pedestrian has been injured by a bicyclist, the pedestrian can recover damages for the accident. They need to show evidence that the bicyclist had been negligent, such as by riding too fast and close to the pedestrian.
Jogging/running on the sidewalk
A lot of people in California use sidewalks for exercise in order to avoid the streets. These runners are usually willing to share the sidewalk with pedestrians. However, some of them can be inconsiderate and could knock over pedestrians on their jogs. If a runner ends up hitting a pedestrian, the force and speed could easily knock them down to the ground and leave behind injuries.
Large vehicle driving close to the sidewalk
Large vehicles like buses and trucks typically have big mirrors on their side which extend well beyond their vehicles. When these vehicles come to a full stop near a sidewalk, the size of the mirror might be a hazard for anyone standing close to the sidewalk. If the bus or truck is coming forward at a high speed, the impact following the stop could cause a pedestrian to get injured.
Usually, bus and truck drivers are trained on how they should handle their vehicles and ensure the safety of others while coming to a full stop on a sidewalk. However, if a driver is being negligent, a pedestrian could get hit by the side mirror. Consequently, the pedestrian might file for damages against the bus driver or their employer.
What damages are available for pedestrian accidents in California?
Injured pedestrians can seek compensation for a range of accident related damages. These damages are meant to ensure that a person is put back to the same position they would be in if the accident had not occurred. A victim of a pedestrian accident can seek compensation for:
Medical expenses
Lost earnings
Pain and suffering
Counseling
Physical and occupational therapy
Disfigurement or scarring
Loss in earning capacity
Loss of consortium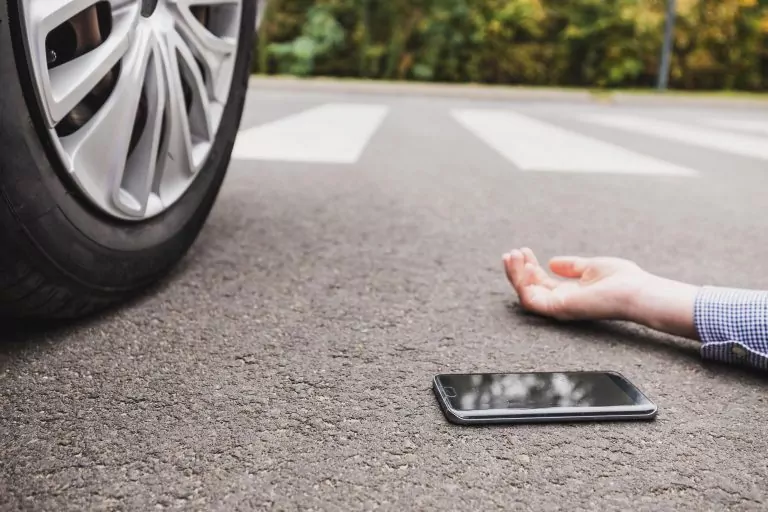 CALL US TODAY (909) 380 – 7200
What To Do in Case of a Pedestrian Accident
If you are injured in a pedestrian accident, the first thing you should do is seek medical care, of course. Then, when you are well enough, notify your insurance company that you are injured. Also, get a copy of the police report.
The next thing you should do is retain the legal counsel of a knowledgeable California pedestrian accident attorney. A Krasney Law personal injury attorney will ask you questions to find out how your pedestrian accident happened, the location and what you were doing there. The attorney will also ask you what medical treatments you've had. Be honest with your lawyer. If you have access to witnesses, newspaper articles or accident reports, gather them and provide them to the attorney.
What Not To Do In Case of a Pedestrian Accident
If you encounter someone at the scene who was involved in the pedestrian accident that resulted in your injury, be cooperative and courteous, but do not apologize or admit to any guilt. If you do you may be conceding you are liable.
Talk only to your California pedestrian accident lawyer, the police and your own insurance company about the accident. If another driver's insurance company calls you, refer them to your lawyer or your own insurance company. Don't speak with the other side's insurance company without first calling our office. Please keep in mind, the insurance company will want to take a recorded statement to protect themselves, not you. They represent the people that injured you, and they are trying to reduce their financial liability.
Don't give a recorded statement to anyone, especially insurance companies. They will use your own words against you later on in the case
Pedestrian Accident Statistics For 2022
The following statistics represent the pedestrian accident statistics for the entire country of the United States according to the National Highway Traffic Association and the Insurance Institute for Highway Safety.
Pedestrian fatalities account for 11 percent of motor vehicle fatalities
Over 180,000 pedestrians have been killed in motor vehicle accidents between 1975 and 2005
Pedestrians comprise the second largest category of motor vehicle accident deaths following occupant deaths
On average, a pedestrian is injured in a traffic accident every 8 minutes
On average, a pedestrian is killed in a traffic accident every 111 minutes
In 2005 a total of 4,881 pedestrians were killed in motor vehicle accidents
In 2005, the per capita pedestrian death rate was 1.6 per 100,000 people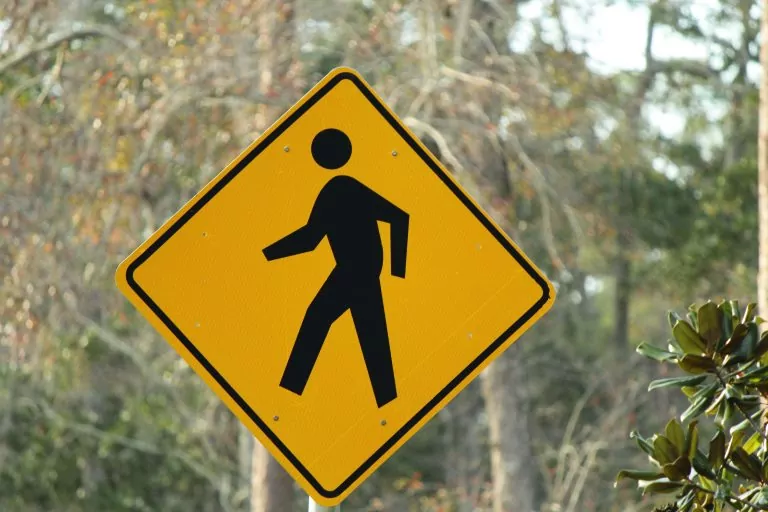 What To Do After You Go Home
Make sure to record visits to doctors and other medical practitioners, the drugs and treatments they prescribe and what you spent on them. Pain and suffering are harder to quantify and qualify, but take notes on how you feel physically and mentally because of the impact of the injury.
Also write down all time lost at work, note what activities at work or home that you can no longer participate in, and tell how the aftermath of the accident has affected your family life.
When Can It Be Considered Neglect?
A person who injures another party may be considered negligent when he acts in a careless and thoughtless manner. Negligence comes in two forms: when the driver or other party failed to do something that would have prevented the accident, or when he did something he should not have done.
California law requires drivers and property owners to be careful, and they may be considered negligent when they fail to act carefully. A person bringing a lawsuit must prove he was injured through the defendant's actions, and that he suffered injuries or losses.
Leading Pedestrian Accident Lawyer in California
Unfortunately, because of the negligence of some drivers of automobiles, just walking can be dangerous. Many drivers simply don't pay attention to what is on the road ahead of or around them. Automobiles and trucks can be quite dangerous to a pedestrian considering all of the distractions such as cell-phones, radios, children yelling in the back seat that many drivers have to contend with.
Although cars and trucks provide substantial protection to the driver, a pedestrian doesn't have the same protection. Because of this, serious injuries and death can result from an automobile-pedestrian accident. For any questions please call us at (909) 380-7200 for a free consultation with a California pedestrian accident lawyer. We are here to answer your questions.