Crestline Car Accident Lawyer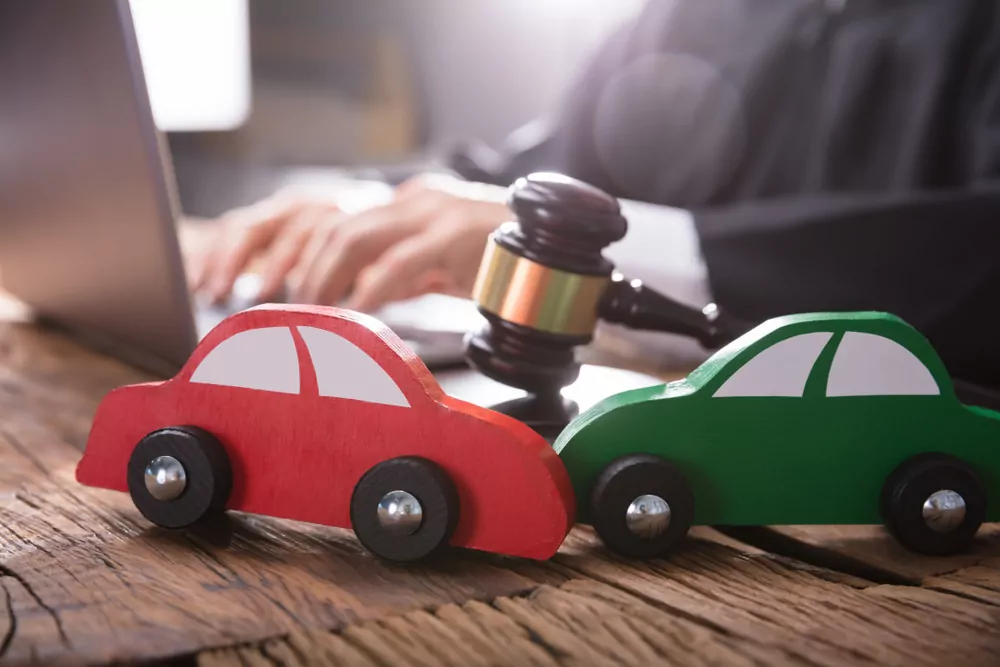 At Krasney Law, we understand that being involved in a car accident can be a stressful and overwhelming experience. Our Crestline car accident lawyer or Crestline car accident attorney is here to help you navigate through the legal process with confidence and reassurance.
Car Accidents in Crestline
Crestline is a small, mountain community located in the San Bernardino Mountains of Southern California. Known for its natural beauty and scenic vistas, Crestline is a popular destination for outdoor enthusiasts and those looking for a quiet retreat from the hustle and bustle of city life. The town is situated at an elevation of 4,000 feet and is surrounded by dense forests, crystal-clear lakes, and miles of hiking trails. Crestline is also home to a vibrant arts community, with many galleries and studios showcasing the works of local artists. 
Car accidents in Crestline are unfortunately not uncommon, due to the area's winding mountain roads and heavy traffic during peak tourist seasons. Even the most cautious drivers can fall victim to accidents caused by reckless or distracted drivers, poor road conditions, or inclement weather.
In the event of a car accident, seek the help of an experienced car accident lawyer who can guide you through the legal process and fight for your rights. Krasney Law is a trusted law firm in Crestline that specializes in personal injury cases, including car accidents.
Our team of lawyers has the expertise and resources necessary to help you recover damages for medical expenses, lost wages, pain and suffering, and other losses resulting from a car accident.
The City of Crestline, CA
Crestline is a census-designated place located in the San Bernardino Mountains in San Bernardino County, California, in the United States. It is situated at an elevation of 4,700 feet and has a population of approximately 10,000 people as of the 2020 U.S. census. Crestline is known for its scenic beauty and outdoor recreational opportunities, including hiking and mountain biking in the surrounding mountains and forests, as well as fishing and boating in nearby Lake Gregory. The community has a small-town feel and offers a variety of local businesses, including shops, restaurants, and cafes. Crestline has a diverse population and a range of residential neighborhoods, including cabins, vacation homes, and year-round residences.
Potential Problems You May Face If You Don't Hire a Crestline Car Accident Lawyer
Failing to hire a Crestline car accident lawyer after a car accident can have several repercussions, including:
Difficulty in determining liability
A car accident involves multiple parties, and it may not be clear who is at fault. Without a lawyer's help, it can be challenging to determine liability. For example, if two drivers were involved in an accident and both claimed the other was at fault, it can be challenging to determine who was responsible without legal assistance.
Inadequate compensation
Insurance companies often try to settle claims for the lowest possible amount. If an insurance company offers a settlement that does not cover the full cost of your damages, a lawyer can help you negotiate for a better settlement.
Legal complications
There are several legal requirements and deadlines involved in a car accident case, and missing any of them can complicate matters. For instance, if you miss the deadline for filing a claim, you may lose your right to compensation.
Limited knowledge of your rights
The legal system can be complex, and without legal representation, it can be challenging to navigate through the process. If you are not aware of your right to claim damages for pain and suffering, you may miss out on compensation.
Additional stress
Dealing with the aftermath of a car accident can be stressful, and not having legal representation can add to that stress. If you are recovering from injuries sustained in the accident, handling legal matters can be overwhelming. A lawyer can alleviate that stress by handling legal matters on your behalf.
How Can a Car Accident Lawyer at Krasney Law Help You?
Legal Representation
Our car accident lawyers provide legal representation and help you navigate the legal process, ensuring that your rights are protected.
We handle communications with insurance companies and legal representatives on your behalf, allowing you to focus on your recovery.
Establishing Liability
We investigate the accident scene, collect evidence, and interview witnesses to establish liability.
Our lawyer can help prove the other party's negligence, which is necessary to establish fault in a car accident case.
Calculating Damages
We calculate the damages you are entitled to, including medical expenses, lost wages, and property damage.
We also determine the value of non-economic damages such as pain and suffering, which can be challenging to calculate without legal expertise.
Negotiating with Insurance Companies
Insurance companies often try to settle claims for the lowest possible amount. Our car accident lawyers negotiate with insurance companies on your behalf to ensure that you receive fair compensation.
We help you understand your legal options and determine whether to accept a settlement offer or pursue further legal action.
Representing You in Court
If your case goes to court, we represent you and present evidence to support your case.
We help you navigate the court system, understand legal procedures and deadlines, and advocate for your rights in court.
What Can You Do on the Scene of a Car Accident in Crestline?
If you're involved in a car accident in Crestline, there are several things you can do at the scene of the accident to protect your rights and ensure your safety. Here are some steps you can take:
Check for Injuries
The first and most important step is to check yourself and others involved in the accident for injuries. If anyone is injured, call 911 immediately.
Move to Safety
If possible, move your vehicle to a safe location to prevent further accidents or injuries. If your vehicle cannot be moved, turn on your hazard lights and place warning triangles or flares to alert other drivers.
Call the Police
Even if the accident is minor, it's important to call the police and report the accident. The police will create an accident report that will be helpful if you need to file an insurance claim or a lawsuit.
Exchange Information
Exchange information with the other driver(s) involved in the accident, including names, phone numbers, addresses, insurance information, and license plate numbers.
Take Photos
Take photos of the accident scene, including the damage to the vehicles, skid marks, and any relevant road signs or signals. These photos can be helpful evidence in the event of an insurance claim or lawsuit.
Get Witness Information
If there are any witnesses to the accident, ask for their contact information. They may be able to provide important testimony in support of your claim.
Contact a Car Accident Lawyer
Finally, contact a car accident lawyer in Crestline as soon as possible. A lawyer can help you protect your rights and ensure you receive fair compensation for your damages.
The Best and Most Affordable Crestline Car Accident Lawyer
At Krasney law, our personal injury or car accident lawyers typically work on a contingency fee basis. This means that the lawyer only gets paid if they win the case or obtain a settlement on behalf of their client.
Under a contingency fee agreement, the lawyer's fee is usually a percentage of the compensation obtained on behalf of the client. The percentage can vary depending on the complexity of the case, the amount of work required, and the experience of the lawyer.
It's important to discuss fees and payment options with the lawyer during the initial consultation, so you understand the costs associated with your case. We are transparent about our fees and help you understand the financial aspects of your case before you agree to work with us.Don't wait to get the help you need after a car accident. Contact us online or call us now at (909) 380-7200 for a free, no-obligation consultation with a trusted Crestline car accident lawyer. We're here to fight for your rights and help you get the compensation you deserve.
EXPERIENCE * RESOURCES * RESULTS