California Whiplash Lawyer
Imagine sitting in a car and waiting at an intersection when a speeding car rear ends you. One of the most commonly occurring injury is whiplash. Almost 1.7 million rear end car accidents happen every year in the United States. California is in the top 5 states that experience more road accidents. 
It is imperative that you approach a good lawyer who will talk to you regarding your rights and fight for your rightful monetary compensation. We, at Krasney law, believe that you should not waste your life savings due to an unfortunate accident. We will get you the fair compensation you deserve to help you with the medical bills, car restoration and the emotional trauma underwent. 
Read on to learn more about whiplash, the symptoms, causes and possible course of action.
Whiplash injuries following a car accident can lead to serious complications if not taken care of immediately, sometimes even surgery.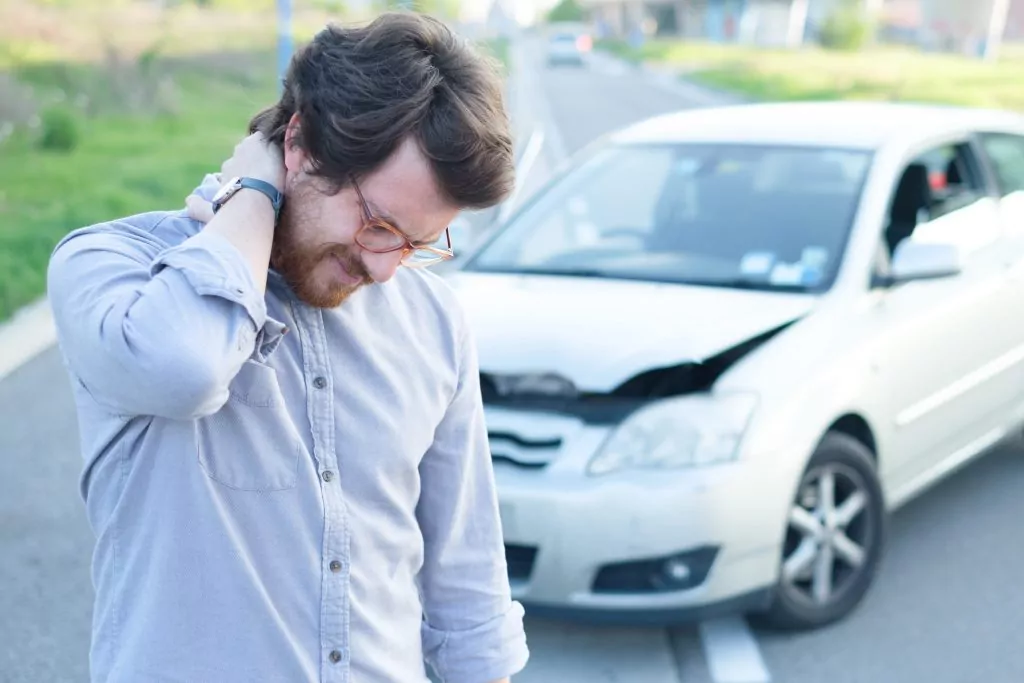 Following most car accidents, one of the most common injuries people endure is neck injuries. They can range in severity from soft tissue injuries to more serious nerve and spine damage. Whiplash is one of the most common types of neck trauma which can lead to life long discomfort and in worst-case scenarios, life-long disabilities.
In California, hundreds of individuals suffer from whiplash injuries every year. We have compact freeways and busy city streets it can happen when you least expect it. Many individuals believe their pain will go away and fail to seek proper medical attention immediately. This can lead to a lifetime of pain and other chronic conditions. If you have been in a car accident in California, it is imperative that you seek medical advice as soon as possible. The last thing you would want is permanent damage or chronic pain done to your neck.
What Is Whiplash?
Whiplash injuries occur when you experience a sudden jolt the forces your head into a position too quickly. The word whiplash is not a medical term. It is a hyperextension of the neck and is associated most commonly with auto accidents. In fact, it is one of the main injuries that are covered by insurance companies. Our car accident lawyers have experience helping those who have suffered a whiplash injury in all types of accidents, including:
Car accidents
Truck accidents
Slip and falls
Rear-end accidents
t-bone accidents
In any case, as mentioned above you should seek medical attention in order to determine the extent of the damage done to your body and the extent of medical bills you will accumulate in treatment to recover. Our experienced personal injury lawyers can help you get in touch with the right doctors as well as begin building your case for recovery immediately.
Symptoms Of Whiplash
Some individuals who suffer from whiplash feel a little discomfort, while others may be in constant pain and experience many other symptoms. Here are some of the most common symptoms that people experienced after a car accident:
Neck pain / strain
Stiffness of the neck
Fatigue and dizziness
Tingling or numbness in the arm(s) / hand(s)
Loss of range of motion in the neck
Difficulty in concentrating or remembering
Lower back pain
Irritability
Headaches
Tenderness or pain in the shoulders or upper back
Some rarely reported symptoms include:
Ringing ears or tinnitus
Blurred vision
Lack of sleep
Depression
Remember that this list is not exhaustive. You could have symptoms apart from this since the nature of injury can vary from case to case. If you or your loved one were in an accident, please seek medical attention immediately. 
Getting a prompt diagnosis can help in accurately identifying your symptoms before they worsen. The medical practitioner will help rule out other injuries. An accurate and timely diagnosis will also help your lawyer represent your case while filing for an insurance claim or rightful compensation from the liable parties.
Complications
Though whiplash injuries usually last only a few weeks, it has been found that in severe road crashes, people have suffered from injuries that turn chronic / experience intense symptoms. 
In such cases, the pain could last for months. If you were in a serious collision and experienced intense symptoms in the beginning, it is likely that the pain caused could prolong. 
The following risk factors have been attributed to chronic pain:
Old age
Previous neck injury or whiplash injury
Existing back injuries or pain in the neck or lower back
High speed collision
How To Diagnose and Treat Whiplash
Once the victim arrives at the emergency room after any traumatic accident, you would most likely be examined immediately by a doctor or trained physician. You will be asked for the details of the accident, a
Whiplash injuries are usually caused to the soft tissues in the neck and hence are not visible in X Rays. The doctor will usually use standardized imaging tests like CT scans and MRI's to diagnose the damage done to the ligaments, discs, muscles and joints. 
These tests are very expensive and are usually covered by health insurance. Doctors prescribe pain relief medications along with additional treatment options like physical therapy, ice, traction, massage, ultrasound etc. These treatment options may not be covered by your insurance plan. Some individuals may not accept the pain relief medication due to their ongoing recovery from drug abuse.
Such instances of emotional trauma and burgeoning medical bills can be rectified with legal assistance in getting a rightful compensation. Our lawyers will build a solid case on your behalf and include every little damage done to your life due to the unfortunate accident and held the liable parties responsible. 
Seeking a timely and comprehensive diagnosis will set you on the path to recovery.
Stages of Whiplash Associated Disorder
WAD is categorized into 4 stages of severity.
Grade 0 – No complaints about the neck or any sign of physical pain
Grade 1 – Stiffness or tenderness. Complaints of neck pain
Grade 2 – Neck complaints of pain and signs of injury such as decreased range of motion and areas of tenderness
Grade 3 – Complaints of neck pain and neurological symptoms
Grade 4 – Fracture or dislocation
Recovering from Whiplash Associated Disorder
Prognosis of Grade 1 and 2 with proper therapy and medical care is excellent and victims usually recover within 4 to 6 weeks. Even though every case is different its hard to give everyone the same recovery time. Other factors can come into play such as age and overall health.
In the case of Grade 3, the recovery period is lengthier and more complicated due to additional complications. Damages and disorders such as neurological issues or headaches can become permanent. Grade 4 victims often have to live with ongoing restrictions and lifelong limitations. This is why it is so important to seek medical attention. don't worry about the costs because we are here to help you get the compensation you deserve every step of the way.
Other Types of Neck Injuries To Watch Out For
Whiplash is not the only type of neck injury that can occur in a car accident. There are many components of the neck that can become damaged. After all, the neck supports our head and is connecting to the spinal cord. However, some of these injuries may not show up for a few days or weeks after an accident. Also, some neck injuries can manifest in other areas of the body, like in your arms or hands.
Some other neck injuries to pay attention too and seek medical help immediately:
Repetitive Strain
Sprains and strains
Nerve pinch injury
Vertebral fracture
Spinal cord damage
Shortly after the collision, you may experience neck pain, headaches, and pain in your shoulders, arms or hands. Numbness and weakness may also occur. It all just depends on the severity of the collision and other circumstances like speed and if you were wearing a seatbelt. Even with minor neck injuries, medical costs can still be expensive.
When Delayed Symptoms Occur
Sometimes, injuries that take weeks to appear are treated as a result of a car accident. In addition to the negative health consequences that can occur from delayed symptoms, there is also the insurance aspect to take into consideration. Many people end up paying out-of-pocket for their medical expenses when accident-related injuries. This is especially true if a person settles with the insurance company right away without discussing their rights to better compensation. Make sure to speak with a doctor after a car accident and then when you are able to speak with a trusted local attorney for advice.
Compensation
If you or you loved one has been in an accident, please contact a medical professional at once. Then, after an appropriate and thorough diagnosis, contact a lawyer to file a claim if you believe that the accident was due to no fault of yours. If you deserve a rightful compensation, a good lawyer will be able to get you one. 
The things you can be compensated for are:
Medical bills including the standardized tests
Additional treatment prescribed like therapy or traction
Accommodation or assistance to get home
Loss of income
Loss of pay due to absence from work
Property damage
Permanent or temporary disability
Disfigurement
Automobile repair and restoration
Physical and emotional trauma
Cost of alternate transportation
Wrongful death
Chronic injuries
It is easy to file a claim with medical bills and it has a specific number. But quantifying the pain caused due to mental and emotional trauma is difficult. It makes up a large part of your recovery process and it is important that you have a fair and justified compensation for all your woes. Getting legal assistance while filing a claim will help you form a solid case and also reduce the burden of paperwork. 
Contact A Whiplash Attorney In California Today!
Unlike insensitive ambulance chasers, we at Krasney Law understand your pain and suffering. We will help you build a solid case to explain the damages suffered and procure the adequate compensation you deserve with ease. 
If you or your loved one has been in an accident, please visit a healthcare professional immediately. And, if you believe you deserve to be compensated, contact us. Call us at Krasney Law at (909)487-5675 to talk with our personal injury lawyer. 
 When you need a lawyer in San Bernardino, think Krasney Law.