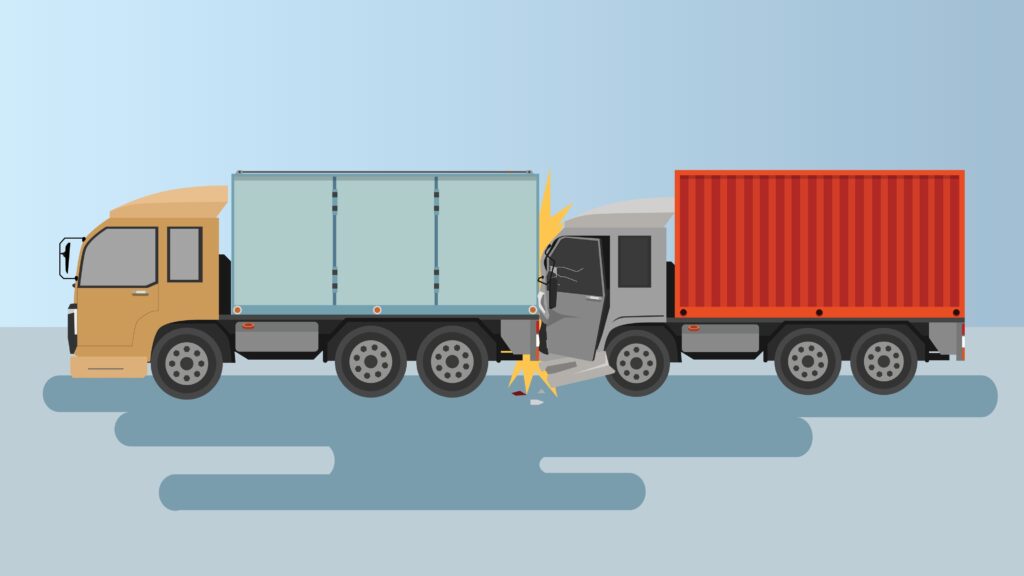 Protect your rights with an experienced Fontana truck accident lawyer from Krasney Law.
Fontana serves as a major hub for trucking on the West Coast, handling the transportation of a large volume of goods each year. However, this thriving trucking industry also comes with its own set of challenges. With truck drivers navigating long hours on congested roads and managing vehicles much trickier than your average car, the scene is set for potential mishaps. Accidents involving large trucks are all too common, with thousands occurring annually. Some of these accidents also result in fatalities, which have recently seen a surge by 9% (U.S. Department of Transportation report).
California law acknowledges the seriousness of these tragedies and provides recourse for those affected by truck accidents. In cases where negligence by either the driver or the employing company has caused the accident, victims are entitled to seek financial compensation for their losses.
If you or someone you know has been in a truck accident in Fontana, don't try to handle it alone or agree to quick settlements. Consult a Fontana truck accident attorney from Krasney Law to protect your rights and make sure you get the justice and compensation you deserve. Call us at (909) 254-5793 to book a free consultation with our attorneys.
If you want to learn more about how we can help you navigate truck accidents, read on.
Common Causes of Truck Accidents in Fontana
Given its strategic location and proximity to Los Angeles, Fontana sees many semi-trucks traversing its roads and freeways daily. As these trucks navigate the highways, they bring along certain inherent risks. There are multiple factors that contribute to truck accidents in Fontana –
1. Driver fatigue 
Because of the relentless demands of the job, truck drivers are often dealing with exhaustion and fatigue. Sometimes, even the stipulated hours-of-service regulations are compromised, increasing the risk of accidents.
2. Improper loading and cargo issues
Improperly loaded cargo can destabilize a truck's balance. This can also result in an accident that could cause a ripple across highways.
3. Distracted driving 
The problematic issue of distracted driving seeps into the world of trucking as well. Using devices or texting can divert a driver's attention from the road, resulting in potentially catastrophic accidents.
4. Mechanical failures and poor vehicle maintenance
Almost 55% of trucks accidents are caused by mechanical issues. Considering the rigorous demands of the job, regular maintenance of these large vehicles is very important.
5. Company prioritizing deadlines
Sometimes, a company's determination to meet customer delivery times can result in impractical schedules, driver exhaustion, and stress. This increases the chances of accidents.
If you are a victim of a truck accident in Fontana, you don't have to navigate this challenging journey alone. Consult a Fontana truck accident attorney who can safeguard your rights, seek justice, and help you on the road to recovery. Krasney Law could be your partner in achieving a fair resolution.
How Our Fontana Truck Accident Lawyers Can Help
Wondering how we can help in truck accident cases? Here's everything you get when you choose Krasney Law to represent you.
Expertise and experience in handling truck accident cases
With over 30+ years of experience in the industry, a Krasney Law Fontana truck accident lawyer will handle everything for you, so that you can rest and recover in peace. We will –
Ensure that the at-fault entities/people are held responsible
Investigate the accident to collect evidence to prove causation and negligence
Advocate on your behalf against the insurance company
Represent you in the trial (if necessary)
Knowledge of trucking regulations
The FMCSA (Federal Motor Carrier Safety Administration) is the body that regulates the trucking industry, with rules designed to ensure driver safety and uphold the safety of other vehicles on the road. Experienced truck accident attorneys from Krasney Law understand these complex rules, like –
'Hours of Service' rule: This rule controls the amount of time truck drivers can spend driving large commercial vehicles to prevent fatigue.
CDL (Commercial Driver's License) rule: Outlines the qualifications and procedures for getting a CDL.
Truck size and weight restrictions: These rules prevent trucks from being overloaded, which can lead to accidents.
Guidelines on drug and alcohol testing to maintain a substance-free driving environment.
Despite these rules and regulations, the number of truck accidents has been increasing. A Krasney Law Fontana truck accident attorney will use their in-depth understanding of these regulations to represent clients effectively, and secure justice and compensation for people affected by truck accidents.
Understanding of the unique challenges in truck accident litigation
Truck accident cases can get complicated due to the possible involvement of several parties like the driver, trucking company, or truck manufacturer. With an experienced Fontana truck accident lawyer, you can rest assured that they will work hard to gain the highest possible compensation for you.
As your attorney manages the claim details, you can concentrate on your health and well-being. You won't have to stress about the confusing claim process or insurance adjusters trying to reduce your rightful compensation.
Why choose Krasney Law 
When it comes to finding a Fontana truck accident lawyer who truly understands the complexities of truck accident cases, look no further than Krasney Law. With over three decades of experience dedicated to personal injury cases, our team has the expertise to help you secure the compensation you deserve. And we are so confident in our ability to recover your money that we proudly offer a No Recover/No Fee policy. You have nothing to lose by entrusting us with your case.
Reach out to us today!
You can book a free initial consultation with us today. Simply call us on (909) 254-5793. You can also fill the form on this page, and we'll get back to you.
Frequently Asked Questions
What evidence should I gather after a truck accident?
Immediately after a truck accident, try to collect initial evidence like photographs and maybe witness testimonies, if you can.
What makes truck accident cases different from car accident cases?
Truck accident cases can be more complex than car accident cases because of the severity of injuries involved and multiple liable parties (including the trucking company).
What should I look for when choosing a truck accident lawyer?
When selecting a lawyer for a truck accident, take into account their prior experience and success in managing similar cases and their understanding of trucking regulations.
Additional Resources
If you're looking for more useful resources on truck accident cases and lawsuits, consider taking a look at our blog for articles like –