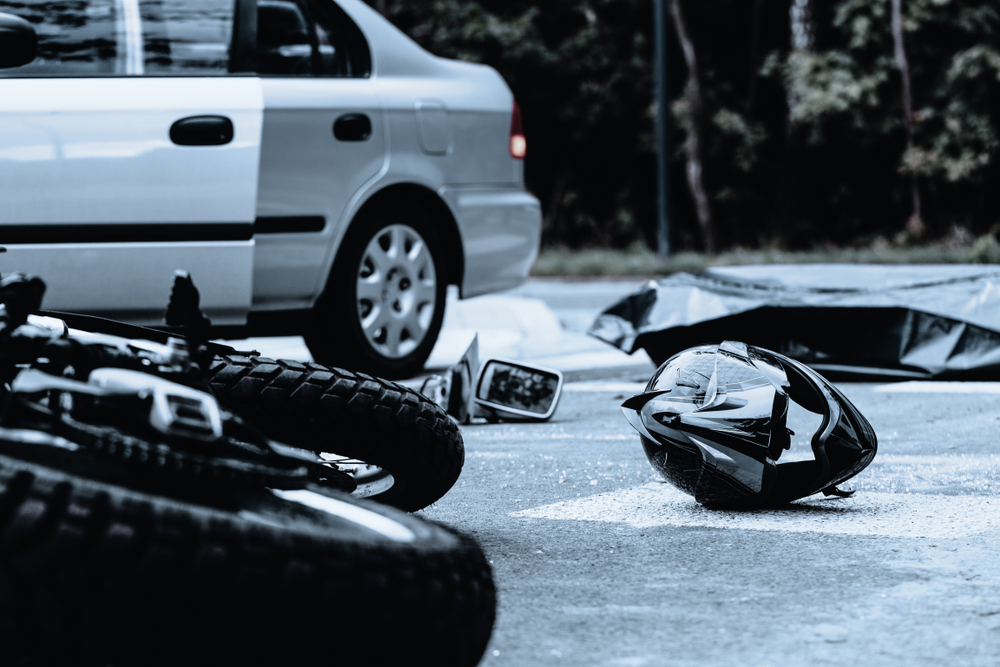 The joy of cruising your bike through the hills of Fontana can be truly exhilarating, but it can quickly turn into a harrowing experience if safety tips while driving are not followed. If tragedy strikes on the road, Fontana motorcycle accident lawyers can quickly come to your rescue. With their years of experience and expertise, they can help you navigate the legal complexities, secure your rights, and seek compensation from the at-fault parties for your losses.
Common Reasons for Motorcycle Accidents in Fontana
Motorcycle mishaps can occur due to a variety of factors and may involve one or a combination of the following circumstances:
Distracted driving
Failure to yield the right of way
Unsafe or sudden lane change
Over-speeding
Driving under the influence
Unsafe turning
Tailgating
Poor road conditions
Visibility issues
Why Should You Call the Lawyer?
Navigating the aftermath of a motorcycle accident is not easy. It is marked by physical injuries, emotional distress, and legal complexities. Fontana motorcycle accident attorneys, with their proven legal expertise and an in-depth understanding of California's motorcycle laws and personal injury regulations, can help you navigate the complex legal system with ease.
Moreover, with California having strict deadlines for filing a personal injury claim, there's little time to waste.
But choosing a Fontana motorcycle accident lawyer is not just about legal representation—it's a strategic decision that can help you safeguard your future. Leveraging his experience and expertise, your lawyer can help you:
Champion Your Rights: They make sure your rights are respected and upheld throughout the legal process.
Ease Your Burden: While you focus on recovery, your lawyer can navigate complex legal proceedings, making sure you get the compensation you rightfully deserve for your loss and suffering.
Conduct Negotiation: Your attorney skillfully negotiates with insurance companies on your behalf, maximizing the claim for you.
Instill Confidence: Having a skilled advocate by your side provides assurance that there's someone fighting for your interests.
They can help you understand your legal rights, build a strong case, and pursue your rightful compensation.
The Role of a Fontana Motorcycle Accident Lawyer
The multifaceted role of a Fontana motorcycle accident attorney includes:
Providing Legal Expertise: Unlike you, a seasoned Fontana motorcycle accident attorney possesses an in-depth understanding of California's motorcycle laws and personal injury regulations. You can leverage their expertise to build a strong case and get maximum compensation.
Gathering Evidence: From the moment you enlist their services, your lawyer starts gathering essential evidence to strengthen your case. This includes obtaining accident reports, gathering witness statements, reviewing medical records, and examining accident scene photos.
Establishing Liability: During a motorcycle accident, it is important to determine who is at fault. Your attorney will work to establish liability by demonstrating negligence, recklessness, or disregard for traffic laws on the part of the responsible party.
Calculating Damages: Motorcycle accidents often lead to a range of damages, including medical expenses, property damage, lost wages, and pain and suffering. A Fontana motorcycle accident lawyer will meticulously calculate these damages to ensure you receive a fair settlement.
Negotiating with the Insurance Company: Dealing with insurance companies can be challenging, as they always aim to minimize payouts. Your attorney will skillfully negotiate with insurance companies to secure a settlement that reflects the full extent of your losses.
Protecting Your Rights in Court: If negotiations do not yield a satisfactory settlement, your Fontana motorcycle accident attorney is prepared to take your case to court. Their courtroom advocacy aims to present your side persuasively and secure a favorable verdict.
Overcoming Challenges in Motorcycle Accident Cases
One of the primary challenges in motorcycle accident cases is the inherent bias against motorcyclists. There's a misconception that motorcyclists are reckless and are often considered the cause of accidents. Insurance companies may attempt to shift blame onto motorcyclists to reduce their liability.
Skilled lawyers work to dispel these biases by presenting a comprehensive picture of the accident.
They gather evidence, record witness statements, explore traffic camera footage, reconstruct the accident, and consult with experts to establish a clear picture of how the accident might have occurred. This may help in assessing the fault of the other driver or pedestrian and assigning liability accurately.
With their profound knowledge, skilled Fontana motorcycle accident lawyers can highlight factors that truly led to the crash. They can help demonstrate the negligence of other parties so that your rights are upheld.
Compensating Your Losses
The compensation available to motorcycle accident victims goes beyond immediate medical expenses. A Fontana motorcycle accident attorney considers various factors, including:
Medical Costs: This includes hospitalization, surgeries, rehabilitation, and ongoing medical treatments to ensure a full recovery.
Lost Wages: Motorcycle accidents often result in significant time off work. Compensation covers the income you've lost due to your injuries.
Property Damage: Your lawyer can also help you claim the repair or replacement cost of your motorcycle and any other personal belongings damaged in the accident.
Pain and Suffering: Non-economic damages such as physical pain, emotional distress, and loss of enjoyment of life can also be claimed during settlement.
Future Expenses: You can also seek compensation for long-term medical care, therapy, and potential loss of earning capacity due to permanent injuries.
Get Skilled Representation From Fontana Motorcycle Accident Attorney
Don't suffer due to someone else's mistakes. Connect with Krasney Law's Fontana motorcycle accident lawyers and navigate the legal complexities that follow a motorcycle accident.
Our expert Fontana motorcycle attorneys understand the physical, emotional, and financial toll that a motorcycle accident can take. They go the extra mile to make the road to recovery smooth and your future is safeguarded. So, whether you're dealing with injuries, medical bills, or emotional distress due to your motorcycle accident, our legal team is here to provide the support and guidance you need.
At Krasney Law, our commitment is to stand by your side, advocate for your well-being, and help you seek the justice and compensation you deserve. Schedule a free consultation with our Fontana motorcycle accident attorneys and get on the path to financial compensation for your pain and suffering. Your future matters, and we're here to safeguard it.