Leading Rideshare Accident Lawyer in California
If you've been injured in an Uber or Lyft accident, an experienced California rideshare accident lawyer attorneys and staff can help you navigate the complicated laws of California. We can help you recover the maximum amount in damages to get you as much as possible and to get justice in the face of negligent or careless drivers and their insurance companies.
Unfortunately, in part because of the negligence of rideshare drivers, California roads can be dangerous. Driving is perilous enough as it is  considering all of the distractions such as cell phones, radios and children yelling in the back seat that many drivers have to contend with. But add hectic rush hour traffic, and the danger of an accident can be terrific.
If you have been injured in a rideshare accident, contact  the team of rideshare accident attorneys at Krasney Law for a complimentary consultation.
How Can Our California Rideshare Accident Lawyers Help?
We can help if you get injured in a rideshare accident. We can help you with your claim for compensation from the responsible driver and his or his employer's insurance company for the damage or injury caused. If you are injured, call the team at Krasney Law for a free initial meeting with an attorney experienced in the area of rideshare accidents.
We have attorneys and investigators capable of dealing with insurance companies that try to pay as little as possible, even less than what you have coming. Also, some rideshare accident victims may need to file a lawsuit to get the insurance company to pay. Keep in mind, getting you back to good health is the No. 1 priority.
Krasney Law's expert rideshare accident attorneys and staff can investigate the circumstances of an accident and file suit for maximum damages to see that our clients get what they need to cover medical bills, lost wages and pain and suffering. Or, we can negotiate with the insurance company to get you a fair settlement in exchange for your injuries.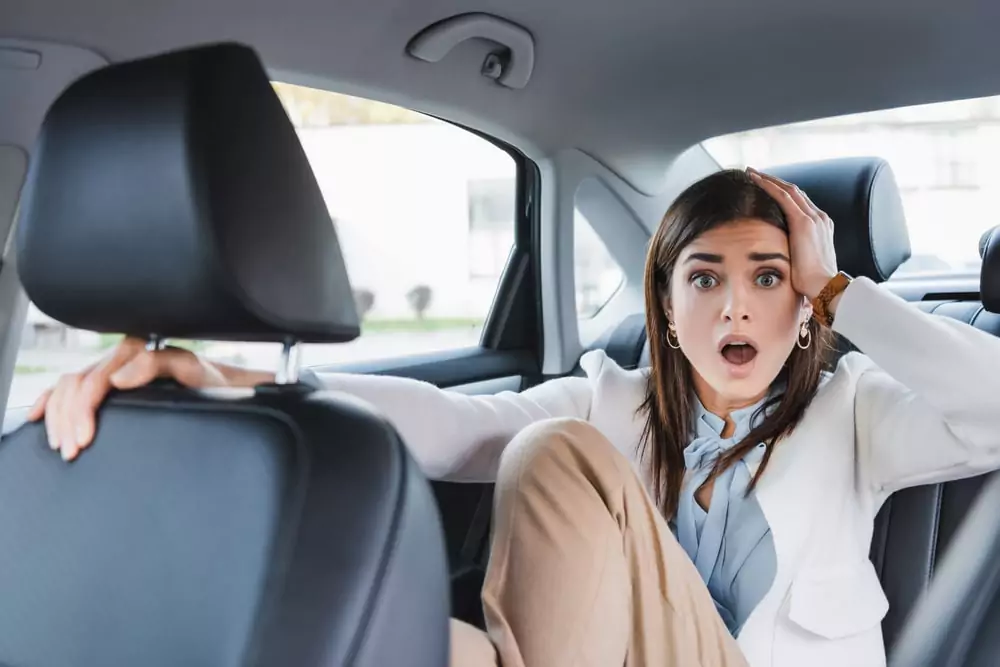 CALL US TODAY (909) 380 – 7200
What To Do In Case Of A Rideshare Accident In California

At the scene, first check on passengers. Then check drivers and pedestrians involved. If they need medical help, summon an ambulance immediately. Don't move anyone who is unconscious or reports neck or back pain.
Call the police to report any deaths, injuries or significant property damage and request a police report on the accident. Get the names and badge numbers of officers who come to the scene. It usually takes a couple of weeks to get the local police, sheriff or California Highway Patrol (CHP) to complete the report and make it available for pickup. Most law enforcement agencies charge a fee for the report.
Ask all the drivers for their names, driver's license numbers, telephone and address. Take down license plates and insurance information from every driver involved. This is a great time to start snapping pictures on your cell phone to help you with documenting all of this information once you are calmed down. If there are witnesses, write down their version of what happened and their information too. Again, you can't take too many pictures.
What Not To Do In Case of a Rideshare Accident
Make sure that you:
Don't admit to any degree of fault.
Don't speak with the other side's insurance company without first calling our office. Please keep in mind, the insurance company will want to take a recorded statement to protect themselves, not you. They represent the people that injured you, and they are trying to reduce their financial liability.
Don't give a recorded statement to anyone, especially insurance companies, they will use your own word against you later on in the case
Don't let your car, truck or motorcycle be towed to their tow yard. Instead get it  towed home.
What Not To Do In Case Of A Rideshare Accident
Make sure that you:
Don't admit to any degree of fault.
Don't speak with the other side's insurance company without first calling our office. Please keep in mind, the insurance company will want to take a recorded statement to protect themselves, not you. They represent the people that injured you, and they are trying to reduce their financial liability.
Don't give a recorded statement to anyone, especially insurance companies, they will use your own word against you later on in the case
Don't let your car, truck or motorcycle be towed to their tow yard. Instead get it towed home.
What To Do After You Go Home
When you go home or soon after, contact your insurance company and let them know you were in a rideshare accident. Don't lie or misrepresent the truthful facts of the accident or they may deny coverage if you're caught. Obtain a copy of the police report or contact our office and we can help you with that.
If you are injured, make sure to record visits to doctors and other medical practitioners, the drugs and treatments they prescribe and what you spent on them. Pain and suffering are harder to quantify and qualify, but take notes on how you feel physically and mentally because of the impact of the crash.
Also write down all time lost at work, note what activities at work or home that you can no longer participate in. In your journal, tell how the aftermath of the wreck has affected your family and marital life.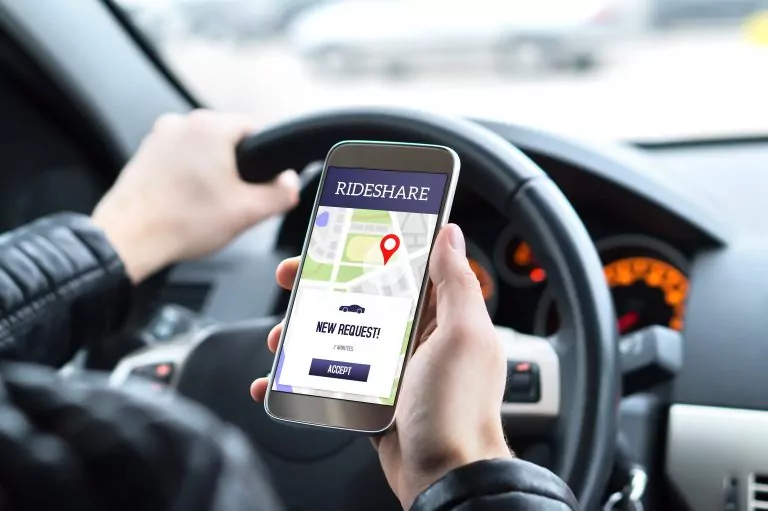 When Can It Be Considered Negligent
The driver of a vehicle who injures another party may be considered negligent when he acts in a careless and thoughtless manner. Negligence comes in two forms: when the driver failed to do something that would have prevented the accident, or when the driver did something he should not have done. A lot of distractions are usually considered negligence. For example, using a cell phone while driving is both restricted by law and considered negligent behavior..
California law requires drivers to be careful, and they may be considered negligent when they fail to act carefully. A person bringing a lawsuit must prove he was injured through the defendant's actions, and that he suffered injuries or losses.
With the rise of rideshare companies like Uber or Lyft comes the rise of accidents related to them. Rideshare accident lawyers help bring justice to people injured in such accidents. Almost every day, people, including passengers and pedestrians, are hurt, sometimes even fatally, due to Uber or Lyft-related crashes in California.
In most cases, you are entitled to compensation, but for that, you must act fast. In this article, we will give you an in-depth analysis of everything you need to know regarding rideshare accidents.
What are the Damages that you can Recover in a Rideshare Accident?
If you have been in a rideshare accident, you can mainly recover damages in three forms depending on your circumstance.
Economic Damages
Although economic damages do not reverse the injuries or trauma you might have sustained due to your accident, they help reduce the financial burden on your family. In addition, they help lift you up on your feet again after an accident has significantly affected you. They include:
Medical expenses pertaining to the initial care you received after your accident.
Medical expenses in the future, including long-term or ongoing care, physical, cognitive or psychological therapy, and other related surgeries.
Lost wages for the time you have spent recovering from your injuries.
Lost wages for the future because the quality of your work might decrease after sustaining injuries, which might affect your salary.
 Repair or replacement for any personal property lost, damaged, or destroyed due to the rideshare accident.
Expenses covering funerals and burials of loved ones lost due to rideshare accidents.
Non-Economic Damages
In most cases, the plaintiff will receive non-economic damages only if their injuries are long-term. For example, you might get damages for the following:
Suffering that you had to undergo due to a rideshare accident.
Burns that might have a lasting, long-term effect on your body.
Loss of the function or the complete loss of a body part.
Loss of your partner which will have a long-lasting effect on your mental health.
If you are unable to complete general chores like mowing your lawn or going to the supermarket and have to pay someone to complete them for you.
Punitive Damages
The court orders the defendant to pay the plaintiff punitive damages as a punishment. They receive this order to make up for the grossly negligent and irresponsible behavior they have exhibited that has caused you life-altering injuries. One of the main differences between economic, non-economic damages, and punitive damages is that the former can be paid to you without going to court.
In contrast, punitive damages can only be awarded if your case goes to trial. Therefore, to get punitive damages from the defendant, you should be able to prove that the latter's behavior was intentional or grossly negligent. Exceeding the speed limit, driving under the influence, and driving while distracted can be a few of the cases where you may be paid punitive damages.
Who Can Be Liable in case of a Rideshare Accident?
Although it depends on the kind of accident you have been in, in most cases, it is the rideshare driver's fault. However, they could either be partially or fully at fault. If the driver is not entirely at fault, some of the other entities who might share the blame are:
The driver of another car.
The manufacturer of the car's equipment.
The city, state, or the county if the accident was caused by damaged roads.
Two or more drivers involved in the accident can be equally at fault if they all share responsibility for the crash.
Within How Long Do I Have To Submit My Rideshare Accident Claim?
The time limit by when you must file for your personal injury claim is called the statute of limitations. The statute of limitations in California is two years from the day of the rideshare accident.
If, however, your rideshare accident involves either a federal, municipal, or state vehicle, you only have six months to file a personal injury claim. For government vehicles, the statute of limitation for filing for damages is also six months.
What is the Role of a Rideshare Accident Lawyer?
The following are the responsibilities that a rideshare accident lawyer carries out:
Conducts thorough interviews of the accident victims or their family members in the unfortunate case of their demise. Learn the detailed facts of the case and discusses their available legal options.
Aids in getting immediate medical attention and assists their family in managing the injured individual's medical expenses.
Investigates the circumstances that led to the accident.
Finds and gets in touch with experts and witnesses that can help them build a foolproof case.
Issues a demand letter stating damages that the defendant has to pay on behalf of the victim.
Finally, they also file a lawsuit on their client's behalf.
Why Should I Contact a Rideshare Accident Lawyer?
When accidents of this sort happen, the timing is of utmost importance. Delaying legal consultation may lead to the disappearance of vital evidence. This might be a very costly error on your part that you could have easily avoided.
Hiring a rideshare accident attorney immediately can lead to the speedy handling of your case. They will be able to conduct a thorough investigation instantaneously and gather the evidence before it is too late. In addition, you will also get the right advice regarding what steps to take and mistakes to avoid to get the maximum in damages.
Such cases are very complex ones, and they require expertise to be handled carefully. Most importantly, many parties are involved, and the laws are ever-changing. Professional attorneys can find information that is not generally available to general civilians, including driver monitoring information. Uber will only be forced to divulge such information to personal injury lawyers only.
Hire Krasney Law—California Rideshare Accident Lawyers
To get a free evaluation of your case, speak with an attorney who understands the complexities of rideshare accident claims. We have been winning big awards for our clients for years. We have experienced attorneys and expert staff who will go all out to represent you for maximum damages. Call the San Bernardino rideshare accident lawyer team at Krasney Law for a free initial consultation. We will charge you nothing for an initial consultation, and we may arrange payment on a contingency basis. That is, we don't get paid unless you get paid by either accepting a settlement or we go to trial and win your case.