Seeking Justice? Our Rancho Cucamonga Pedestrian Accident Lawyers Are Here for You
Fellow pedestrians of Rancho Cucamonga, your safety is a top priority when strolling or crossing the streets. Unfortunately, accidents involving pedestrians still happen, and if you find yourself in such a situation, get in touch with a Rancho Cucamonga pedestrian accident lawyer. They will make sure you get the compensation you deserve.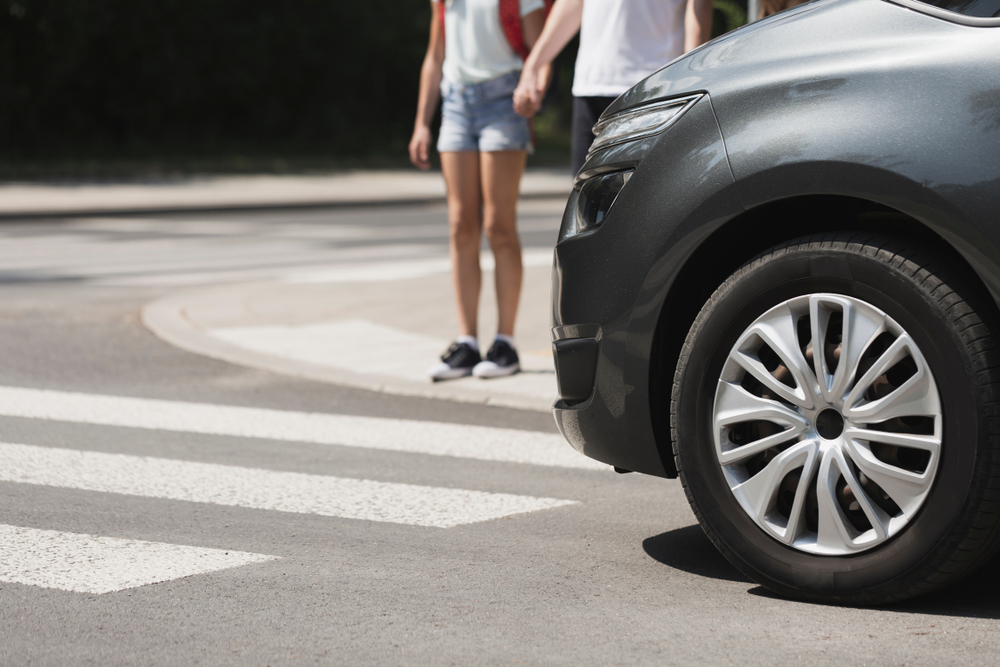 Dealing with the aftermath of an accident can be overwhelming. There is all the legal stuff, insurance companies, medical bills, and potential long-term effects. That's where a knowledgeable and dedicated Rancho Cucamonga pedestrian accident attorney from Krasney Law Firm comes in. They know the ins and outs of pedestrian accident cases in, and they'll work hard to get you back to your normal life in no time. Don't hesitate to reach out and let us handle everything for you.
Understanding Pedestrian Accidents in Rancho Cucamonga
Almost one-fifth of pedestrian deaths are caused by drivers who pull a disappearing act after an accident. Pedestrians make up a whopping 60% of hit-and-run victims. That's a lot of people left hanging.
Here's a mind-boggling stat from the AAA Foundation for Traffic Safety: more than 680,000 hit-and-runs go down in the US every year. The number of fatalities resulting from hit-and-runs has been creeping up by around 7% annually since 2009.
In 2021, Rancho Cucamonga experienced three pedestrian fatalities, as reported by City-Data. This accounts for 3.85% of all the crashes in Rancho Cucamonga that year. That's a notable drop compared to 2020 when pedestrian fatalities shot up to 6.25%. We're making progress, but the danger is still out there. If you or someone you know has been a victim, it's important to take action right away.
Common Causes of Pedestrian Accidents In Rancho Cucamonga
Driving while not paying attention
Driving too fast
Driving while impaired
Not giving right of way
Driving in an unsafe manner considering the weather, road, or traffic conditions
Ignoring traffic signs or signals
Driving under the influence of substances
Neglecting to indicate when turning
Driving aggressively
Limited visibility
Not crossing a roadway or intersection properly
Being in a roadway while standing, lying, playing, or working
Entering the road suddenly
Legal Responsibilities of Drivers
Motorists are expected to be responsible and cautious when it comes to pedestrians, ensuring their safety is a priority. Here are a few typical obligations that drivers need to fulfill under the law:
When it comes to pedestrians, drivers have a responsibility to be careful and considerate. They need to use good judgment and act responsibly to prevent any harm.
Pedestrians have the right of way. If they're crossing the road legally at a crosswalk or intersection, it's your duty to yield to them.
It's against the law to use electronic devices or do anything that takes your attention away from the road.
Driving under the influence of alcohol or drugs is a big no-no. It's illegal, dangerous, and could have serious consequences.
Speed limits are not just suggestions; they're the law.
If you break the rules, you might find yourself facing some not-so-fun outcomes as a driver. These could include getting slapped with fines, having your license taken away for a while, and even being held responsible for any harm or accidents involving people on foot.
Why You Need a Pedestrian Accident Lawyer
Pedestrian accidents can be quite tricky from a legal perspective. There's a lot to consider, like figuring out who's at fault, calculating damages, and dealing with insurance companies. With the help of a seasoned lawyer who specializes in representing pedestrian accident victims, you'll be able to smoothly navigate the complexities of personal injury laws.
At Krasney Law, we excel in the art of gathering evidence. We have mastered the when, where, and how of collecting witness statements and obtaining expert opinions. We leave no stone unturned as we dive into medical records, dissect accident reports, and conduct thorough investigations. All of this is done to stand tall in our defense.
Our attention to detail is crucial because we're up against insurance companies armed with skilled adjusters and lawyers who love minimizing payouts or denying claims altogether. We're here to help you build a solid case, present compelling arguments, and make sure you get the fair compensation you deserve. We've got your back.
But what if negotiations with insurance companies don't yield the desired outcome? We'll put our litigation expertise to work. With our deep understanding of the legal system, courtroom procedures, and the rules of evidence, we'll present your case in a persuasive manner. We act as your strongest advocates, fighting for your rights and interests in the courtroom.
When you choose Krasney Law, you're not just getting legal representation; you're gaining peace of mind.
Our Approach to Pedestrian Accident Cases
At Krasney Law, we don't see you as just another case. We value you as an individual and believe you deserve our undivided attention and care. Our commitment is to be by your side, advocating for your rights and guiding you through the complexities of your pedestrian accident case with both compassion and professionalism.
We recognize that the success of your case depends on the strength of the evidence we present. That's why we leave no stone unturned in our quest for a thorough understanding of the accident.
To achieve this, we collaborate with a team of skilled investigators who specialize in accident reconstruction. These experts meticulously examine the accident scene, taking into account factors like traffic patterns, road conditions, signage, and any other relevant details that might have played a role in the incident.
Our team is experienced in conducting interviews with witnesses who were present at the scene. We ensure their statements are accurate and detailed. If there is any surveillance footage available, we make use of our resources to obtain and analyze it. Our experts are well-versed in locating and securing such footage, leaving no potentially crucial evidence overlooked.
Results and Testimonials
Over the years, we've had the pleasure of serving numerous clients who were delighted with our legal services. They generously shared their feedback and testimonials, and we'd like to highlight a couple of them for you.
One of our former clients, Nia, had the following to say about her experience. "After being involved in a pedestrian accident, where a careless driver ran a red light and wrecked my car, I sought assistance from this firm. Diane was instrumental in securing a fantastic settlement for my minor claim. I truly appreciate her efficiency and effectiveness. The entire staff in the office was incredibly kind. I have no hesitation in recommending them."
We also had the opportunity to assist Phillip, who shared his thoughts on the process: "Initially, I was worried that dealing with the aftermath of the accident would be a headache. However, since I couldn't reach an agreement with the other driver, I knew it had to be done. When I spoke with Diane, she quickly reassured me that she would guide me through the entire process. While I hope I won't need their services again, I would definitely choose them if I had to."
These testimonials showcase the positive experiences our clients have had with our legal representation. We strive to provide excellent service and support throughout the entire process.
Contact Us Today
Have you or a loved one been involved in a pedestrian accident? Don't wait another moment to seek the help you deserve. Contact Krasney Law today for a free consultation or case evaluation. We are here to fight for your rights and pursue the justice you deserve.