Hire The Best Slip And Fall Lawyer At Krasney Law
To get a free evaluation of your case, speak with a California slip and fall lawyer who understands the complexities of slip and fall injury claims. We have been winning big awards for our clients for years. We have experienced slip and fall attorneys in California and expert staff who will go all out to represent you for maximum damages.
Call the team at Krasney Law for a free initial consultation. We will charge you nothing for an initial consultation, and we may arrange payment on a contingency basis. That is, we don't get paid unless you get paid by either accepting a settlement or we go to trial and win your case.
California considers someone negligent in a slip and fall if they:
Know or should have known about a hazardous condition on property they own or over which they have control, and
They fail to repair, protect against, or give adequate warning of the condition.
Every slip and fall accident doesn't lead to a case of liability. An experienced California slip and fall lawyer can advise you on whether your accident was due to someone's negligence and you have a valid claim.
How Can Our Slip And Fall Lawyers Help?
If you are injured, we can help you with your claim for compensation from the responsible store, organization or property owner where your fall occurred. If you find yourself in this situation, call the slip and fall team at Krasney Law.
Many insurance companies try to pay as little as possible, even less than what you have coming. Also, some slip and fall accident victims may need to file a lawsuit to get the insurance company to pay. Keep in mind, getting you back to good health is the No. 1 priority.
Krasney Law's expert slip and fall attorneys in California and staff can investigate the circumstances of an accident and file suit for maximum damages to see that our clients get what they need to cover medical bills, lost wages and pain and suffering. Or, we can negotiate with the insurance company to get you a fair settlement in exchange for your injuries. Contact us today for a complimentary consultation.
CALL US TODAY (909) 380 – 7200
What To Do In Case Of A Slip and Fall Injury
If you are injured, the first thing you should do is seek medical care, of course. Then, when you are well enough, notify your insurance company that you are injured. Also, get a copy of the police report..
The next thing you should do is retain the legal counsel of a knowledgeable California personal injury attorney. A California slip and fall attorney will ask you questions to find out how your slip and fall accident happened, the location and what you were doing there. The attorney will also ask you what medical treatments you've had. Be honest with your lawyer. If you have access to witnesses, newspaper articles or accident reports, gather them and provide them to the attorney.
Causes of Slip and Fall Accidents In California
Slip and falls can happen on all types of property, both personal and commercial, indoors or outdoors. Sometimes they happen on government property. There are differences in the responsibilities of personal property owners and those of business owners. Personal property owners don't have the same duty to keep up their property. Schedule a complimentary consultation with an attorney at Krasney Law Firm to learn more about who is liable for your slip and fall injuries.
Some common causes of slip and falls include:
Spills
Loose carpeting or rugs
Uncovered cables and cords
Broken furniture
Plumbing leaks
Uneven floors
Broken sidewalks or steps
Broken or missing railings
Failing to rope off or place appropriate barriers at construction sites
Failing to place warning signs at the site of known hazards
A modern and somewhat unexpected cause of slip and falls is distracted walking. More people are walking around focused on their cell phones today than they are watching where they are going. Although it might seem silly or at the very least harmless in comparison to texting while driving, failing to watch where you're going can prevent you from seeing hazards that will cause you to fall.
If you fall while focusing on your cell phone, you might assume the accident is your fault. But if there are other circumstances that led to your slipping and falling, the fault might not be all yours.
What Not To Do In Case of a Slip and Fall Injury
If you encounter someone at the scene who was somehow at fault in the accident that resulted in your injury, be cooperative and courteous, but do not apologize or admit to any guilt. If you do, you may be conceding they are not liable.
Talk only to your lawyer and your own insurance company about the accident. If the other party's insurance company calls you, refer them to your lawyer or your own insurance company. Don't speak with the other side's insurance company without first calling our office. Please keep in mind, the insurance company will want to take a recorded statement to protect themselves, not you. They represent the party that injured you, and they are trying to reduce their financial liability.
Don't give a recorded statement to anyone, especially insurance companies. They will use your own words against you later on in the case
What To Do After You Go Home
Make sure to record visits to doctors and other medical practitioners, the drugs and treatments they prescribe and what you spent on them. Pain and suffering are harder to quantify and qualify, but take notes on how you feel physically and mentally because of the impact of the injury.
Also write down all time lost at work, note what activities at work or home that you can no longer participate in, and tell how the aftermath of the accident has affected your family life.
Proving Negligence in a Slip and Fall Case In California
Krasney Law slip and fall attorneys and staff have all the expertise needed to obtain a favorable judgment if you are injured in a slip and fall case. We are one of the top personal injury law firms in California. We will do all we can to ensure you get just compensation for your injuries.
In the case of a slip or fall accident, the law doesn't hold businesses responsible for the accident unless the company or its employees failed to meet a legal duty of care. If you want to sue for an injury that happened at a business location, you must prove that the business was legally at fault.
Slip and fall injuries can happen in a variety of ways. All business establishments can be sued for slips, falls, and collisions. The owners of a business can be sued based on poor hiring, supervision, or training of employees. California has its own laws that determine the standards of care that can apply in any personal injury case involving a business. We at Krasney Law are experts in slip and fall law.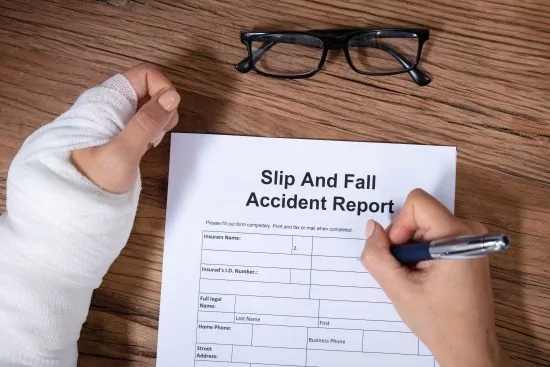 Pure Comparative Negligence Law in California
California is a pure comparative negligence state, meaning that you can collect damages even if you are 99% at fault for an accident. When considering your slip and fall claim, your attorney will determine whether the other side might claim that you were at least partially at fault for the accident. One example would be that you were distracted by your cell phone when you slipped and fell.
Even if the court determines that you are partially at fault for the fall, you can still collect the appropriate amount of compensation for the other party's negligence. For example, if your injuries are valued at $10,000 and you are determined to be 20% at fault, you can still receive $8,000 in compensation.
Our California slip and fall lawyers can help you understand how negligence is determined and how to recover the most damages for your slip and fall accident. We have a long record of success at helping victims of slip and falls just like you.
When Can It Be Considered Neglect?
A party whose premises result in injury to another party may be considered negligent when the party acts in a careless and thoughtless manner. Negligence comes in two forms: when the party failed to do something that would have prevented the accident, or when they did something they should not have done.
To prove that a property owner or occupant was negligent, your California slip and fall lawyer must prove that the defendant was negligent in the use or maintenance of the property if:
The condition of the property at the time of the slip and fall created an unreasonable risk of harm
The defendant knew or should have known of the risk through the exercise of reasonable care
The defendant failed to make repairs or protect against harm from the condition or to give adequate warning about the condition.
California law requires property owners to be careful, and they may be considered negligent when they fail to act carefully. A person bringing a lawsuit must prove he was injured through the defendant's actions, and that he suffered injuries or losses.
Further, courts understand that businesses can't prevent every slip and fall accident from occurring. Courts require that businesses exercise the same amount of care as a reasonably prudent person would. This means guarding against foreseeable problems and taking reasonable precautions to prevent accidents. You can recover damages for most types of personal injury only if you can prove that the business failed in these duties.
Time Limits for Filing a Slip and Fall Claim
The statute of limitations for filing a slip and fall claim in California is generally two years from the date of the accident. You need to file your claim as early as possible. Keep in mind that you and your attorney will need to gather evidence and build your case in case you go to trial. The more evidence your California slip and fall lawyer has, the more likely you will be to get the best results from your case.
You should start gathering evidence for your slip and fall from the time the accident occurred. Make sure the property owner or manager records an accident report with all the details about how it happened. Seek immediate medical care for your injuries and make sure you have a complete set of medical records. File your claim early and use the time you have to prepare a winning case.
Slip and Falls Happen to People of All Ages
You might think that slip and falls only happen to the elderly. While seniors are more vulnerable to serious injuries caused by falls, they can happen to anyone and they probably happen more often than you think. They happen to people who are visiting businesses, providing services to someone's home, and to all types of workers on the job. Sometimes they result in serious injuries and, sometimes, in fatalities. A recent incident at a Yosemite National Park waterfall emphasizes how dangerous these accidents can be. Contact us to speak with a California slip and fall accident lawyer today! We offer free consultations and here to help you.