Underinsured motorist coverage provides needed protection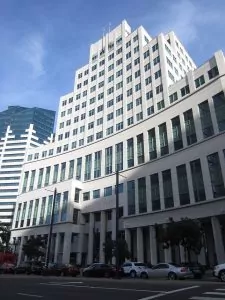 The San Diego Hall of Justice. Underinsured motorist coverage provides some protection against at-fault drivers who haven't purchased enough coverage to pay your medical bills. (Another Believer photo/Wikimedia Commons)
Underinsured motorist coverage protects drivers in case they are hit and the at-fault driver doesn't have enough insurance to cover medical bills. It and uninsured coverage are mandatory under California law.
Law firms are trying to change an unfair situation in the uninsured/underinsured coverage law that says insurers don't necessarily have to pay the full amount of your coverage. Bills have been introduced to reverse the situation where motorists' underinsured insurance coverage can be eliminated or substantially reduced, but so far they have died.
Legislators have written California law so insurance companies can deduct the amount of money the at-fault driver owes from the victim's coverage, in effect canceling out much of the coverage. The law is said to be extremely unfair to motorists who buy the insurance expecting full coverage.
The law mandates a minimum of $15,000 per person per accident in bodily injury coverage and a minimum of $30,000 total per accident. And $5,000 per accident for damage. These coverages were set in the 1970s and are the lowest in the nation. Most experts recommend you get more than the minimum coverage to protect yourself.
Couple these low policy limits with the fact that in about 50 percent of accidents the at-fault drivers are underinsured or uninsured, and one can see what a problem drivers in California potentially have.
A great thing about the underinsured and uninsured coverage is that you and your relatives living in your home don't need necessarily need to be in your car. Even if you or your resident relatives are injured while in someone else's car, your uninsured/underinsured motorist coverage will kick in. Any of you can be walking or riding bicycles or even sitting at a bus stop, and if an underinsured motorist strikes you, you are covered. If it is a hit and run, you must file a police report to get the coverage. Claims must be made within two years.
We explored uninsured motorist coverage benefits and protections in this blog posting.
To get the maximum amount from your insurance company it can pay to hire an experienced law firm to stand up for you against the insurance companies, which in many cases do all they can to reduce the payouts.
If you get in an accident in California, Krasney Law in San Diego are experts in personal injury and auto-accident law and can help you deal with insurance companies or file a lawsuit or other legal action.
Contact your So Cal auto-accident attorneys at Krasney Law, (909) 361-3907. We charge nothing for an initial consultation and we only get paid on a contingency basis, so if you don't get paid, then we don't get paid.