Leading Motorcycle Accident Attorney in California
No one knows the impact a motorcycle injury has on every aspect of your life more than an experienced California motorcycle accident lawyer. The injuries that occur when a motorcycle and passenger vehicle crash tend to be serious and long-lasting, if not deadly. Talk to an experienced California motorcycle accident attorney as soon as you receive medical attention. Contact Krasney Law Accident Attorneys for a free consultation today.
Although many drivers would have you believe that most motorcycle crashes occur because of the motorcyclist's reckless driving, it is often the carelessness of another driver. When drivers don't pay attention to other drivers on the road, they are negligent for not following the traffic laws. If their negligence causes a motorcycle accident, they are legally liable for the motorcyclist's injuries and other damages.
If you have been injured by a car or truck while riding your motorcycle, call the team at Krasney Law for a complimentary consultation.
How Can We Help?
We can help if you are an injured motorcycle rider. We can help you with your claim for compensation from the responsible auto driver for the damage or injury caused. If you are injured, call the motorcycle accident lawyer team at Krasney Law for a complimentary consultation.
We have attorneys and investigators capable of dealing with insurance companies, who try to pay as little as possible, even less than what you have coming. Also, some motorcycle accident victims may need to file a lawsuit to get the insurance company to pay. Keep in mind, getting you back to good health is the No. 1 priority.
Krasney Law's expert motorcycle accident attorneys and staff can investigate the circumstances of an accident and file suit for maximum damages to see that our clients get what they need to cover medical bills, lost wages and pain and suffering. Or, we can negotiate with the insurance company to get you a fair settlement in exchange for your injuries.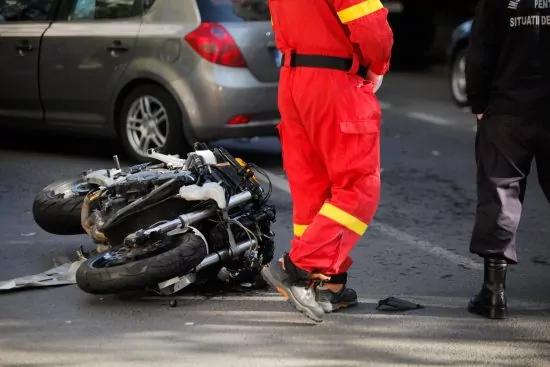 What To Do in Case of a Motorcycle Accident?
At the scene, first check on your passengers if you have any. Then check drivers and pedestrians involved. If they need medical help, summon an ambulance immediately. Don't move anyone who is unconscious or reports neck or back pain.
Call the police to report any deaths, injuries or significant property damage and request a police report on the accident. Get the names and badge numbers of officers who come to the scene. It usually takes a couple of weeks to get the local police, sheriff or California Highway Patrol (CHP) to complete the report and make it available for pickup. Most law enforcement agencies charge a fee for the report.
Ask all the drivers for their names, driver's license numbers, telephone and address. Take down license plates and insurance information from every driver involved. Also get passengers' names, addresses and phone numbers. This is a great time to start snapping pictures on your cell phone to help you with disseminating all of this information once you are calmed down. If there are witnesses, write down their version of what happened and their information too. Again, you can't take too many pictures.
What Not To Do In Case of a Motorcycle Accident?
Make sure that you don't:
Don't admit to any degree of fault.
Don't speak with the other side's insurance company without first calling our office. Please keep in mind, the insurance company will want to take a recorded statement to protect themselves, not you. They represent the people that injured you, and they are trying to reduce their financial liability.
Don't give a recorded statement to anyone, especially insurance companies, they will use your own word against you later on in the case
Don't let your motorcycle be towed to their tow yard. Instead get it towed home.
California Motorcycle Accident Statistics For 2020
The warm climate, beautiful views, and challenging terrain make the state of California a haven for motorcyclists. While motorcycle accidents happen all across the nation, there are more motorcycles, more licensed motorcycle drivers, and more motorcycle crashes here than in any other state in the nation.
The number of motorcycle fatalities dropped 5% nationwide in 2018 to 4,985. This remains a huge number of fatalities, in addition to the many injuries that also occurred. For people who survive motorcycle crashes, the injuries are often serious, long-lasting, and expensive to treat. Traumatic brain injuries, road rash, muscle damage, biker's arm, and leg injuries are some of the most common types of motorcycle accident injuries.
In large part, serious injuries occur due to the lack of protection the motorcycle provides to the rider. Even though you might not feel any symptoms right after the accident, you should get medical attention right away. Some injuries like concussions don't show symptoms until hours, or even days after the accident. You can also receive other types of head injuries, even if there is no obvious head wound.
If you do have any of the following symptoms, doctors might need to use imaging techniques to diagnose their cause. You should consider any of the following injuries as potentially serious and have them checked out:
nausea
dizziness
mood changes
sleep problems
seeing stars
ringing in the ears
blurred visions
seizures
If you or anyone involved in the wreck experiences any of the symptoms of concussion or head injury, seek medical care immediately. Make sure all of the tests, diagnoses, and treatments you receive are included accurately on your medical record.
Motorcycle Accidents in California
California has the largest number of motorcycle crashes in the US. These accidents often occur because drivers fail to pay attention to motorcyclists. Careless or distracted driving prevents them from giving motorcycles the consideration they deserve.
When a crash does happen between a vehicle and a motorcycle, the motorcyclist usually incurs the greatest amount of damage. Motorcyclists are about 28 times more likely than occupants of passenger vehicles to die in a crash. There simply isn't the same amount of protection to shield the motorcyclist from injury.
Spinal Injuries That Are Common To Occur On A Motorcycle
Injuries to the spine are the most common and most life-changing to occur following a motorcycle accident in California.
The spinal cord is an essential part of our bodies central nervous system. Any damage to it can result in very serious health problems such as paralysis.
Understanding The Different Types of Spinal Injuries
A complete spinal injury is when communication from the spine to the brain is severed. This causes the loss of motor functions and sensory near the injured area. An incomplete spinal injury is when the patient still has motor functions and not everything is lost.
A motorcyclist who suffers a spinal injury may have serious long-term medical problems such as bowel dysfunction and osteoporosis to name a few. At the end of the day, it all comes down to how severe was the motorcycle accident and was the rider wearing any protective gear.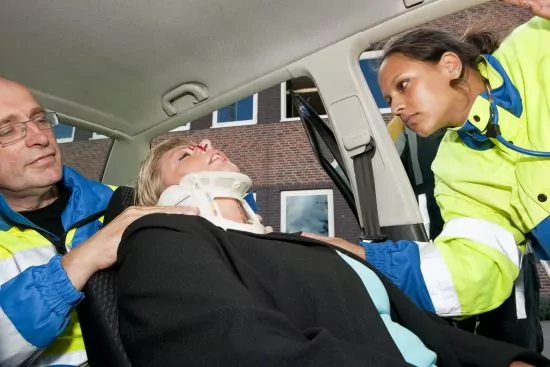 Cervical Spine Injury
The most serious cervical spine injury can lead to quadriplegia, paralysis from the neck down. This is because the cervical spine is located at the base of the skull.
Lumbar Spine Injury
Located towards the bottom of our spine and made up of five vertebrae. These injuries often lead to paraplegia and require surgery for treatment.
Thoracic Spine Injury
Since the ribs do a great job in protecting the thoracic region, these types of injuries are less common in motorcycle accidents. In case of a thoracic spine injury, the victim may suffer paraplegia and various other symptoms.
Sacral Spine Injury
The injured motorcyclist may experience weakness or paralysis of the hips and legs as well as the loss of bowel control and possibly bladder dysfunction.
A Growing Problem for Attorneys After a Motorcycle Accident.
Everything that you do after a motorcycle accident is important. It helps ensure that anyone who is injured gets the medical help they need. It also helps you preserve evidence that your attorney will need if you file an accident claim later on.
Increasingly, it is what accident victims do during the hours, days, or weeks after the accident that causes problems. The same smartphone that is valuable for taking pictures at the accident scene can end up hurting your case.
Careful With Social Media Use After An Accident
There's been a lot of talk in the news lately about the security and privacy of social media sites. It isn't just political information that you need to worry about. People share almost everything on Facebook, Twitter, and other popular platforms. The problem is that insurance companies and attorneys know this, and they could use it against you.
If you think everything you share with friends is kept private, try looking up someone you aren't already friends with on Facebook. You might not find everything they share with their friends, but you will find some of their latest posts.
If the other side looks at your social media pages, make sure they don't find anything related to your accident, injuries, or your claim. We always advise clients not to talk with insurance companies or the defendant's attorney. What you share online could be a lot worse than anything you say directly.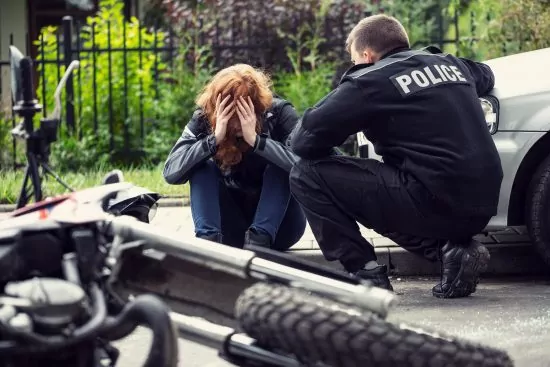 What if You Think You're at Least Partly to Blame?
It isn't unusual to feel guilty after an accident, even if it wasn't your fault. Any time something bad happens, it's normal to feel sad or sorry that someone got hurt. The same is true even if the injured party is you! Vehicle accidents are often very traumatic. If you're dealing with feelings of guilt, depression, or anxiety, talk to a physician about it.
Most people associate post-traumatic stress disorder (PTSD) with events like war. But serious accidents that result in injuries or wrongful death can cause PTSD symptoms in survivors too. Make sure you get the treatment you need to deal with any emotional or mental conditions that resulted from the crash.
Of course, there is also the possibility that you are partially to blame. If you were breaking a traffic law at the time the crash occurred, the court might find you partially at-fault for the crash and the damages. California's comparative fault laws mean more than one party might share the fault. If you're the injured party, partial negligence can change the total amount of compensation you can receive. That shouldn't prevent you from pursuing compensation at all.
Before you can file a personal injury claim in California with a motorcycle accident lawyer, you must prove that the other party's negligence caused your injuries. That might mean they failed to do something to prevent the accident or they did something they shouldn't have that caused it.
Hire Krasney Law Accident Attorneys—California Motorcycle Accident Lawyers
Krasney Law Accident Attorneys will provide you with a free evaluation of your case. Our experienced attorneys understand how complex California traffic laws can be. You only get one chance to file a motorcycle accident claim and get a fair settlement. Contact Krasney Law today and learn more about your options going forward. You deserve to have a California motorcycle accident lawyer on your side who understands motorcycle accident law. You don't have to deal with your injuries or the insurance company on your own.
There's no way to prevent other people from driving carelessly. But the law in California can hold them accountable for their mistakes. If they aren't and they cause you to suffer injuries, you have the legal right to pursue compensation. The attorneys at Krasney Law Accident Attorneys are experts on California law. Contact our office today to learn more about your rights and your options for pursuing compensation.