Big-rig crashes are a growing problem in California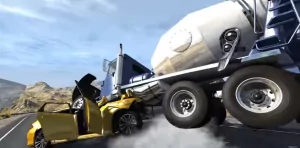 You may not realize it, but big-rig semitrailer trucks on California's roadways are a big threat to your safety and well-being. When a semitrailer hits a passenger vehicle, the results can be devastating. And the problem has been getting worse as the amount of freight carried on highways has grown.
About 71 percent of U.S. freight is carried on trucks. Trucking is a $700 billion-a-year business, and it is expected to grow in the coming years. More than 3 million truckers travel the nation's roadways, hauling just about everything society needs. They travel nearly 300 billion miles every year.
The figures on fatalities in California are stark. In 2010, the National Highway Traffic Safety Administration reported there were 2,715 fatal traffic accidents statewide. Commercial trucks were involved in 235 of these California accidents.
In 2009, about 286,000 truck-related crashes resulted in 74,000 injuries, reported the Federal Motor Carrier Safety Administration.  More than 75 percent of the people killed and injured were in passenger vehicles.
The FMCSA reports that truck drivers' fatigue, heart attacks, seizures and falling asleep at the wheel are common causes of truck-related accidents. In addition, they may make bad driving decisions, make miscalculations or be distracted.
To avoid crashes with trucks:
Always use turn signals when changing lanes.
Don't operate for too long in truckers' blind spots, which are at the rear and along the sides.
Don't change lanes abruptly around trucks or other vehicles.
Pull off the road completely if you have an emergency. Use flares if you have them. Move away from your vehicle.
Keep a distance of 20 to 25 car lengths when traveling behind trucks. And stay farther back when trucks are traveling uphill in case they backslide when shifting.
If you get in an truck accident in California, Krasney Law firm in SoCal are experts in personal injury and Truck Accident Law and can help you deal with insurance companies or file a lawsuit or other legal action. We are experts at maximizing your settlement or jury award.
Contact your So Cal auto-accident attorneys at Krasney Law, (909) 361-3907. We charge nothing for an initial consultation, and we may arrange payment on a contingency basis. That is, we don't get paid unless you get a settlement or we go to trial