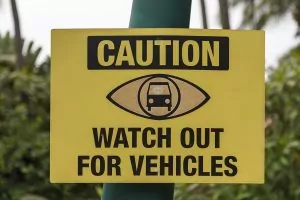 In premises liability, a property own must keep the premises safe for all who enter. This sign posted may or may not provide some legal protection. (Wikimedia Commons photo/Uwe Aranas)
Personal injury liability lawsuits can be difficult enough to pursue without the added daunting task of facing a governmental entity as defendant. But you can still sue successfully and obtain relief for your monetary losses because of medical bills, lost wages and for psychological trauma if you have the right law firm fighting for you.
In May a California appeals court ruled a mother and son could continue fighting for damages for the boy, Jacobo G. Garcia, after he was hit in the head by a golf ball on a City of Pasadena-owned, 36-hole golf course called Brookside Golf Course.
This case falls in the area of premises liability law that requires property owners or their representatives to maintain a property in a safe condition for all who are on or even near the property. People should expect not to be injured by unsafe conditions when they enter a property or premises. In theory, if someone enters a person's or organization's property and gets injured, the injured person may sue to obtain damages.
Examples of premises liability include slip and fall cases, ones like the one we discuss here where a ball hits someone or even amusement park ride cases.
Brookside Golf Course and the Rose Bowl have what is called the Rose Bowl Loop, a series of roadways around the stadium and the golf course. They give access to the Rose Bowl and recreational facilities, including the golf course, tennis courts, swimming pools, athletic fields, park spaces and a children's museum. People walk, bicycle, skate and jog on the Rose Bowl Loop as well, says an appeal document at Justia.com.
The loop has a 13-foot-wide pedestrian walkway along it that is distinguished from an adjacent roadway. A concrete wall with a chain-link fence atop it separates the walkway from the golf course. There are also gates in the fence that give access to automobiles. Fencing and gates are about 7 feet 6 inches (2.286 meters) high. Warning signs posted at intervals around the gates and fencing say:
NOTICE: YOU ARE WITHIN A GOLF COURSE AREA. YOU ASSUME THE RISK OF GOLF BALLS AND OTHER RECREATIONAL USERS.
Many years ago, after a person was hit by a golf ball, the entity that runs the golf course erected nets at the 12th, 17th and 18th holes of one of the two courses, the C.W. Koiner Course.
A golf ball hit the plaintiff bringing the lawsuit, Jacobo Garcia, in the head at the 15th hole of the C.W. Koiner course on September 30, 2011. His mother, Ana Pavon, was pushing him in a stroller. The boy was taken to the hospital and suffered a subdural hematoma and brain injury that resulted in pain, cognitive difficulties, eye injuries and emotional distress. Pavon also sued, saying she suffered emotional difficulties in caring for her son.
The plaintiffs said on appeal:
"Failure of the public entity to protect against a dangerous condition on public property pursuant to [sections] 830 and 835.  The public entity permitted a dangerous activity of a golf course next to a public sidewalk/walking and biking area; failed to protect against the known risk of golf balls leaving the golf course and striking persons on public property, but not on the golf course; failed to erect fences or other barriers to protect the public or arrange the golf course to minimize this risk or adequately warn golfers and pedestrians of this risk."
They sued the corporation that runs the golf course for the city, American Golf Corp.
The city said it did not owe damages for a few reasons. The circuit court had ruled earlier that the lawsuit could not continue because of a type of statutory immunity known by the term "trail immunity."The appeals court said the trail immunity did not apply in this case.
The appellate court cited the statue, 831.4, which states:
A public entity, public employee, or a grantor of a public easement to a public entity for any of the following purposes, is not liable for an injury caused by a condition of:
(a) Any unpaved road which provides access to fishing, hunting, camping, hiking, riding, including animal and all types of vehicular riding, water sports, recreational or scenic areas and which is not a (1) city street or highway or (2) county, state or federal highway or (3) public street or highway of a joint highway district, boulevard district, bridge and highway district or similar district formed for the improvement or building of public streets or highways.
The appeals court said this covers the trails themselves, but not the adjacent property, and the danger to Garcia came from the adjacent property.
The court also said it would be counterproductive or even absurd not to allow the lawsuit to go forward, adding that a court must avoid "construing an ambiguous statute must avoid, if it can, an interpretation that would lead to absurd consequences."
Call Krasney Law if you were injured on unsafe premises. Call us even if you are unsure if the property owner was liable. We can help determine how much fault a property owner bears for the case. Sometimes, liability can lie partly with the property owner and partly with the injured person. If the fault is 50 percent with the injured person and 50 percent with the property owner, the injured person can still collect 50 percent of damages on the case.
We are experts in personal injury law and have experience getting maximum compensation for premises liability victims or for victims of any type of personal injury. Our phone number is (909) 361-3907. We will charge you nothing for an initial consultation, and we may arrange payment on a contingency basis. That is, we don't get paid unless you accept a settlement or we go to trial.