What are some signs that you need a truck accident lawyer in California? Accident cases involving large commercial trucks are often complex and involve many factors. Handling such cases and making sure that you receive compensation for your damages are best performed by an experienced truck accident attorney. In this blog, we shall look at some signs that should guide you as to when you would benefit from having a lawyer by your side.
Why do I need a truck accident attorney?
If you are unsure about whether having a truck accident attorney is right for your case or not, here are some issues that you ought to consider. 
You have sustained major injuries
Truck accidents can often cause life-changing injuries to those who were impacted. This is mainly due to the size difference between your car and an 18-wheel vehicle combined with the high speeds at which trucks often travel. The more devastating your injuries are, the more complex the litigation becomes. Sustaining serious injuries or becoming diagnosed with medical conditions which require treatment for years are some signs that you need a truck accident lawyer.
Essentially, if you suffer injuries like amputation of limbs, bone fracture, vision loss, spinal cord injury, or brain injuries, you should contact a lawyer. To recover compensation for your accident claim, the lawyer will collect present medical bills and an estimate of future care and medical expenses. Sometimes, other evidence and testimony of experts in court might be required who can explain the nature of financial losses which you may face.
Multiple parties are at-fault
Though the truck driver may have caused the accident, it is more than likely for multiple parties to be responsible. Car accidents are known to commonly experience this scenario; however, the same applies to truck accidents as well. When multiple parties are at-fault, lawsuits need to be filed against each one of them. Consequently, you ought to be able to show evidence about each of these parties in court.
Sometimes it can be challenging to identify every party by yourself, and more so to file a lawsuit against each with persuasive arguments against each one. This is a sign that you need a truck accident attorney by your side. A lawyer can help to build your case by identifying and analyzing evidence from the accident scene to assess who is at fault and your opportunities for seeking compensation. Gathering such information could have a huge impact on your case and the compensation that you are able to recover.
Usually, a variety of parties might be responsible for truck accidents. The first party is certainly the truck driver, who may have committed the accident due to irresponsible behavior. Examples include speeding, distracted driving, driving under the influence of drugs and alcohol, fatigue, etc. These factors make drivers negligent about driving which often results in crashes.
The shipping company might also be liable for these accidents. A third-party company is usually responsible for loading cargo onto tractor-trailers. Failure to load things properly including inaccurately distributing weight and not securing the load tightly could lead to an accident.
Further, truck owning companies can be held responsible for accidents caused by their employees. Negligence pertaining to training, pre-employment screening, and violation of federal and state trucking rules can make them liable for accidents. In addition, truck manufacturing companies which make all parts might be responsible if a defect led to a truck accident.
In addition, the company or individual responsible for upkeep and maintenance of trucks could be liable if the accident occurred due to mechanical failures rising from negligent maintenance. Brokers and shippers might also be at fault for truck accidents. To find out who was responsible for a particular case, it is best to work with a truck accident attorney.
Several insurance companies are involved
All of the parties mentioned above would likely be represented by a separate insurance company each. Following an accident, working with one insurance company could be challenging by itself but if you had to handle more than one, the situation would be highly stressful for you.
When you have sustained major injuries in a truck accident, your priority should be your health and recovery. Sometimes, you might not even be in a situation to talk about your settlement with an insurance company. In such cases, it is best to work with a truck accident attorney who can handle the situation on your behalf while you focus on your health.
The majority of trucking companies and their insurance companies are familiar with the high stakes involved in accidents involving trucks and smaller fleet vehicles. This is why most of them have accident response teams that are dispatched to the scene of the accident whenever possible.
Bear in mind that insurance companies representing truck drivers and owners are highly experienced in responding to and in understanding truck accidents. They will be prepared to create a strong legal case as soon as possible following the accident. You will need to ensure that you have an equally strong legal representation on your side. This is where a truck accident lawyer can prove to be advantageous for you.
You have been stalled in settlement negotiations
You may have tried to reach a settlement by negotiating with insurance companies by yourself at the outset. You might have become frustrated at the fact that you were unable to reach a fair settlement amount and that other parties were trying to take advantage of you.
In the aftermath of a personal injury case, there are so many factors to consider and you may not always know what to do legally. Working with a knowledgeable attorney can take care of this stress for you and have a significant impact on the outcome of your case. An experienced truck accident attorney will know how to deal with insurance companies and help you succeed after you have made your best effort at negotiating with them. Involving a lawyer will show the other side that you are taking your case seriously and will not be taken advantage of by the truck accident stakeholders.
Complex nature of laws surrounding commercial trucks
Another sign that you need a truck accident lawyer is that regulations about commercial trucks are ever changing in addition to being complicated. If you are not an attorney yourself, you may not always be aware of these laws. 
A truck accident lawyer will have in-depth information about regulations issued by the Federal Motor Carrier Safety Administration (FMCSA), which is the regulatory body for trucks and other commercial vehicles in the US. Your lawyer will be familiar with trucking laws in existence at the time of your accident in addition to knowing how local and state laws might apply in your case. 
Violation of laws issued by the FMCSA may be presented as evidence of negligence in your truck accident case. The most common federal regulations at issue in cases surrounding truck accidents involve insurance requirements, hours of operation, inspection and maintenance, preservation of records, etc. Other regulations include qualifications of the driver, parts and accessories required, and transportation of hazardous materials.
Damages in truck accident claims
Truck accidents involving life-changing injuries often involve a lot of money. All victims and their families are entitled to fair compensation for the damages they undergo because of negligence by a truck driver or other parties. However, for the at-fault parties, this compensation is an unbearable and unexpected financial loss.
When insurance companies attempt to offer a settlement, they are usually far less than what you deserve. Having legal counsel can help you to determine the exact worth of your damages. An experienced truck accident lawyer will take into consideration all types of damages that you are entitled to. These include property damage, medical expenses, lost income, suffering and pain, loss of future earning capacity, punitive damages, out-of-pocket expenses, loss of enjoyment of life, etc. A lawyer having a track record of recovering damages for their clients in truck accident cases is extremely useful due to this reason.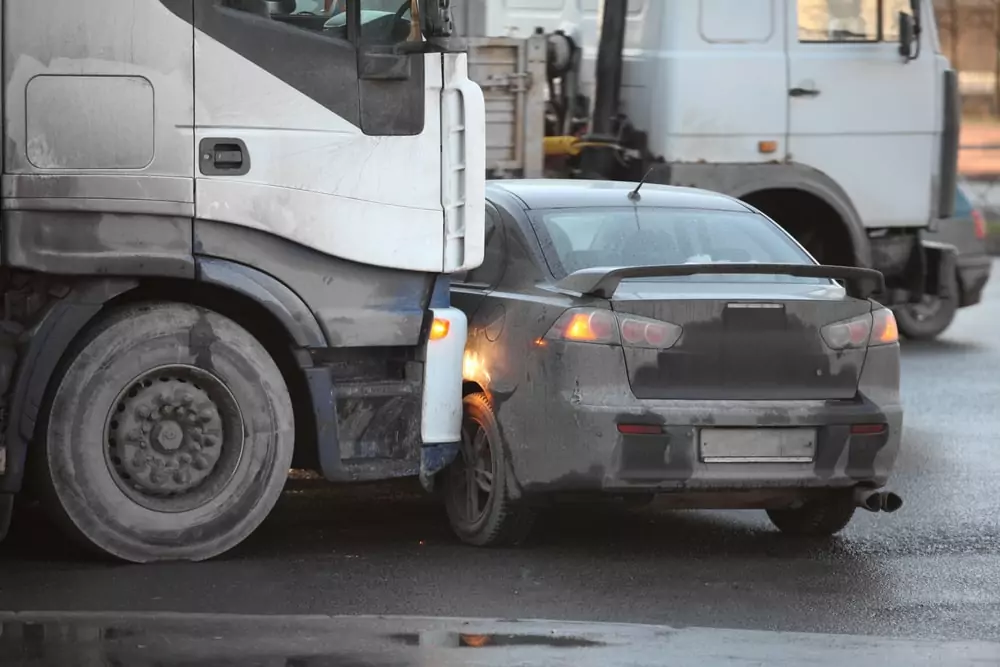 Fatal accidents 
Commercial trucks across the US are involved in a high number of accident cases involving fatalities. Nearly 5000 people reportedly died in truck accidents in 2020, which is a 31% rise in truck accident related deaths since 2011. If a truck accident case involves wrongful death, then it is a sure sign that you should consult a truck accident lawyer.
Wrongful death cases include significant damages due to the losses that surviving family members are faced with. Insurance companies in your case are only concerned about their stakes and the death(s) of your family members will not move them to provide you with a fair compensation. A good truck accident lawyer will be empathetic and considerate of your loss and will work tirelessly to ensure that you receive just compensation for your case.
Location of accident
Liability in case of a truck accident may be impacted by the location where your accident has occurred. Occurrence in certain areas can make your personal injury case more complicated. In such instances, it is beneficial to have the guidance of a lawyer who can navigate the details more intricately.
If the truck accident occurs in a construction zone, the construction company might be liable if negligence in setting up the work zone caused your accident. In addition, school districts might also be liable in cases where a child was involved in a truck accident near a school. This happens if the district fails to implement reduction in speed signs and warning signals to check traffic and keep their students safe.
Presence of the black box in case of truck accidents
The presence of a black box is something which sets trucks, semi-trucks, or trailers apart from typical car accidents. Commercial trucks of a certain weight and size are required to install a black box in them in a manner which is similar to airplanes. In the event of a truck accident, the black box can be useful to obtain information pertaining to the truck accident.
A truck accident lawyer can obtain a lot of information from the black box which can be immensely useful to support your truck accident case. The black box can inform you at what speed the truck had been traveling when the accident occurred and the breaking patterns of the truck. The latter information can help to deduce whether the driver had been moving forward erratically or recklessly.
A black box can also reveal the presence of any mechanical issue or warning lights which could indicate negligence on part of the truck company or the manufacturer. Lastly, it can also show the force of impact of the truck accident which could reveal the level of probable damage and associated personal injury. Getting access to this black box in case of a truck accident can be challenging. Most truck companies are usually not polite or welcoming when it comes to retrieving information that can be damaging to them.
However, with guidance from a truck accident attorney, you can gain access to the black box. An experienced truck accident attorney will have many years of experience in working with such cases and will know how to retrieve a black box from the trucking company.
Contact us if you need assistance and peace of mind
Often, you might find yourself in a situation where you need guidance on whether you are taking the right steps to obtain the compensation you require to move forward in life. Though you may not have specific questions, truck accident attorneys can provide you with much needed support during this time. Seeking knowledge from and trusting your attorney who will advocate for your best interests could make all the difference in enabling you to become more confident about your future.Need to speak with a truck accident lawyer for your personal injury case? Contact us at Krasney Law today and we can schedule a consultation to go over the specifics of your case.