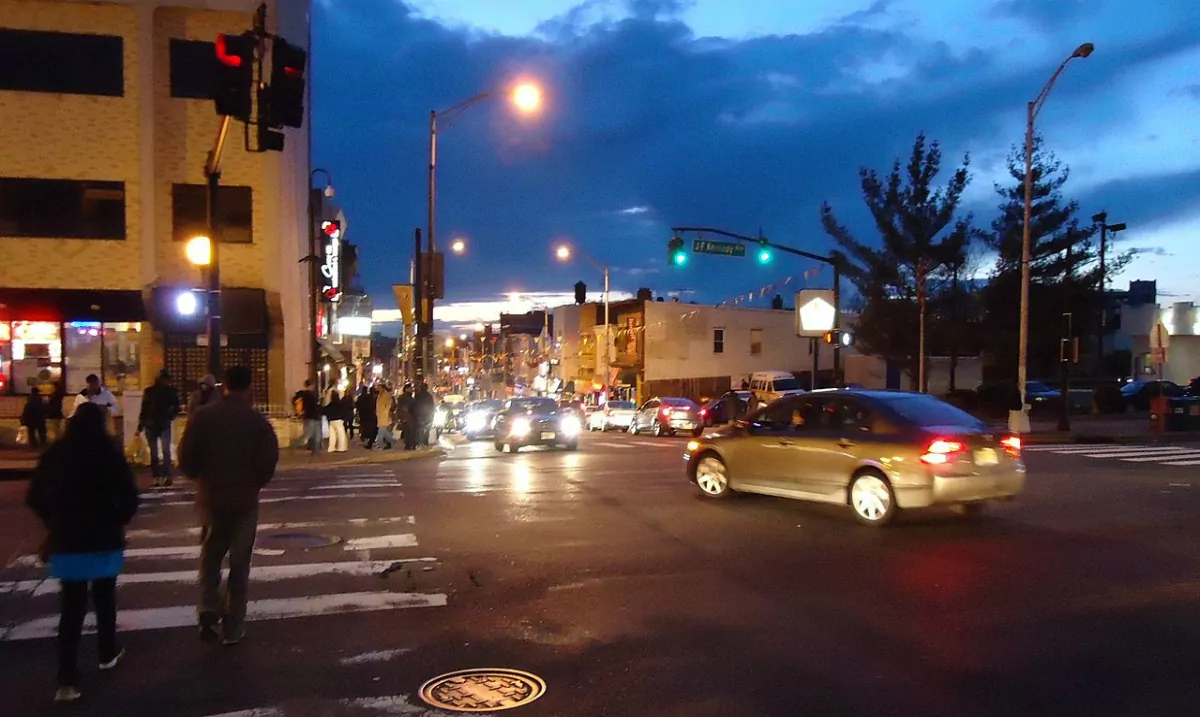 Statistics compiled by the U.S. government show it is getting more dangerous to walk and ride bicycles. (Wikimedia photo/Tomwsulcer)
California is a great state for both walking and bicycling because of the weather and so much natural beauty. But as elsewhere in the United States, the rising number of pedestrian and bicycle accidents is making it more dangerous to enjoy the outdoors.
The General Accounting Office of the U.S. federal government says statistics show that "pedestrian and cyclist fatalities and injuries represent a growing percentage of all traffic fatalities and injuries. For example, pedestrian fatalities comprised 10.9 percent of all traffic deaths nationwide in 2004, but 14.5 percent in 2013. Cyclists represented 1.7 percent of all United States traffic deaths in 2004, but 2.3 percent in 2013."
Injuries also are Increasing
The government's study also shows that injuries of pedestrians and bicyclists also rose during the same time.
"In 2013," the study says, "most traffic crashes that resulted in a pedestrian's or cyclist's death involved men, occurred in urban areas, happened in clear weather conditions, and most frequently took place between 6:00 p.m. and 9:00 p.m. Various factors–working separately or in combination–may have contributed to these fatalities and injuries, including increased walking and cycling trips; alcohol use; distracted road users; or road design practices."
Local and state governments are trying to address the dangers by designing more walking and bicycling facilities like bike lanes and sidewalks, educating people and enforcing laws more rigorously.
More Danger for Pedestrians
It seems pedestrians face more danger than bicyclists, though they too are injured at higher rates than motorists. In just one year, from 2014 to 2015, there was a 10 percent jump in pedestrian deaths.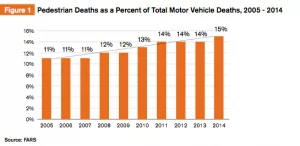 The Pedestrian and Bicyclist Information Center reports, in a crash fact sheet, that bicyclists account for 2 percent of traffic fatalities but account for just 1 percent of trips in the United States.
Similary, "Pedestrians are over-represented in the crash data, accounting for 14 percent of all traffic fatalities but only 10.9 percent of trips," the center says.
Roads Designed for Cars
"Roads have been designed primarily to accommodate motor vehicle travel, and in some cases have design features that endanger pedestrians. Collisions with motor vehicles can have serious consequences. A study based on California data found pedestrians have the highest injury vulnerability of all road users, more than twice that of bicyclists," reports the Governors Highway Safety Association (PDF here).
More pedestrian are killed in large states with large urban centers, including California, Florida, Texas and New York. Those four states accounted for 42 percent of pedestrian fatalities in the half of of 2015.
Tips for Pedestrians
Here are some tips to reduce your chances of being injured in a pedestrian vs. car accident:
Increasing visibility at night by wearing reflective clothing and carrying a flashlight.
Crossing at an intersection or designated crosswalk when possible.
Walking on a sidewalk or a path is the safest, but if those are not available, then walk on the shoulder, facing oncoming traffic.
Before crossing the road, look left, then right, then left again to make sure there is no traffic.
Tips for Bicyclists
There are certain strategies bicycle riders can take to help prevent being struck by automobiles:
Wear a helmet.
Don't wear headphones.
Ride just one person on a bicycle.
Never ride against traffic. In other words, always ride on the right side of the road. When bicyclists ride against traffic, motorists don't have as much time to react, and they may not be expecting anyone and may not see you at all.
Don't ride on the sidewalk. Motorists often can't see you there, and when you enter the roadway it's a sudden surprise.
Look ahead, of you, not toward the ground, so you can see what's happening and have time to react and do defensive maneuvers.
Stay off busy roads, and avoid riding during peak traffic hours.
Except when signaling—and do use recognized hand signals— both hands should remain on the handlebars. Both feet should remain on the pedals. Before crossing a street or entering a road, stop, look left and then right and left again
When riding with more than one person, ride in single file and keep some distance between each bicycle.
Don't ride when it's dark or twilight.
Try to avoid narrow roads and roads with speed limits over 35 mph, especially at or near dark.
If you are Injured
If you were injured by a car or truck while walking or bicycling, Krasney Law: Personal Injury Specialists of San Bernardino and Los Angeles can advise you of your legal rights, how to proceed with an insurance company, or we can explore the possibility of bringing a lawsuit.
We collect no fees unless there is a monetary recovery or your case goes to trial. An attorney can help you obtain the maximum compensation. Some estimates say lawyers double the compensation in accident cases, even after the client pays the contingency fees.
Our phone number is (909) 380-7200. You may also contact us on the Web at https://krasneylaw.net/contact-us/. Our main office is in San Bernardino but we represent clients in personal injury cases all across the state of California.