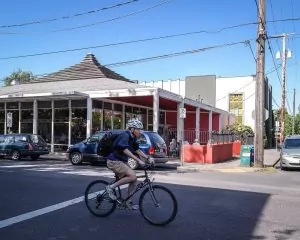 Bicyclists should take out more than the minimum uninsured/underinsured motorist bodily injury auto insurance coverage because they are so vulnerable to serious injury. (Photo by Visitor7)
Did you know the minimum automobile bodily injury liability insurance is only $15,000 per person or $30,000 per accident? So what if you were bicycling and got injuries and medical bills amounting to $100,000 and the other driver who struck you had just the minimum?
You could be on the hook for $85,000. That's right. You may be forced to pay a large majority of the medical bills out of your own pocket if you are struck while riding a bicycle or driving an automobile.
Insurance tip
But it could get even worse than this. Velonews featured an article titled Legally speaking: One key insurance tip for cyclists by Bob Mionske that states:
This scenario has played out many times. What initially seemed like a simple matter of filing a claim becomes a problem when the driver doesn't have enough insurance to cover your damages. And that's assuming the driver is insured. Suppose the driver is uninsured — there's a pretty strong correlation between unsafe driving and uninsured drivers. Or suppose that after hitting you, the driver takes off. Now it's a hit and run, and unless the driver is apprehended, you have no way to inquire about the driver's insurance policy.
You may be on the hook for the entire bill. Except for one saving grace built into California insurance laws: uninsured motorist (UM) and underinsured motorist (UIM) insurance coverage.
Most important insurance
Mr. Mionske was an Olympic cyclist, national champion and later has been a bicycling coach. He writes that the most important type of insurance coverage for bicyclists besides that for health is uninsured motorist and underinsured motorist coverage. It gives cyclists monetary protection and coverage to protect from drivers who strike you and don't have enough liability insurance coverage or have none at all.
What Mr. Mionske doesn't mention is that this type of coverage is not just for bicyclists: It covers the policyholder and relatives in his household when they get struck walking in public areas or when they are in another person's car and get hit and injured.
Relatives are covered
You and your relatives living in your home don't need necessarily need to be in your car. Even if you or your resident relatives are injured while in someone else's car, your uninsured/underinsured motorist coverage will kick in. Any of you can be walking or riding bicycles or even sitting at a bus stop, and if an underinsured motorist strikes you, you are covered. If it is a hit and run, you must file a police report to get the coverage. Claims must be made within two years.
The law mandates a minimum of $15,000 per person per accident in bodily injury coverage and a minimum of $30,000 total per accident. And it requires $5,000 per accident for damage. That $5,000 can be important for bicyclists, some of whom invest a lot of money in their bike and equipment.
Lowest UM/UIM coverages
These coverages were set in the 1970s and are the lowest in the nation. Most experts recommend you get more than the minimum coverage to protect yourself.
Couple these low policy limits with the fact that in about 50 percent of accidents the at-fault drivers are underinsured or uninsured, and one can see what a problem drivers in California potentially have.
There is a catch in California law that is meant to help the insurance companies. This catch is especially pertinent to bicyclists. To obtain the benefits of your uninsured or underinsured motorist coverage, there must be physical contact between the driver's vehicle and your person or bicycle. In other words, if you swerve away from a car that is heading toward you, tumble down an embankment and get injured, the Uninsured/Underinsured motorist coverage will not be triggered.
Mr. Mionske writes:
And even if your state does allow you to use your UM/UIM coverage, your battle may not be over. When an uninsured driver hits you, your own insurance company will stand in the shoes of the driver and will have all the same defenses against you that the driver would have. For example, your own insurance company can argue that you are partially to blame for the crash. In that way, they become your adversary, even though you paid for this coverage in your premium charges.
Some good news
But he says there is good news about uninsured and underinsured motorist coverage in that you decide how much coverage you take out. You can double it, quadruple it or go even higher than that to make sure that if you get in a serious accident and get hurt bad your medical bills will be covered. Mr. Mionskesays you might be surprised at how economical and inexpensive it is to get extra coverage.
The statute of limitations for uninsured motorist cases is two years. The law around statute of limitation in such cases is tricky, and you may need to hire an attorney to sort out just how long you have to bring a lawsuit or demand arbitration against an at-fault driver in underinsured motorist cases. The two-year statute of limitations does not apply in underinsured cases.
Notifying insurance companies
To go to arbitration in California, it is not sufficient to send an e-mail to an employee of the insurance company. Injured parties must put it in writing, and the affidavit must be served correctly by service of process requirements.
If you get in an accident in California, Krasney Law in the San Bernardino and the Inland Empire area are experts in personal injury and auto-accident law and can help you deal with insurance companies or file a lawsuit or other legal action. We are experts at maximizing your settlement or jury award.
Contact your So Cal auto-accident attorneys at Krasney Law, (909) 361-3907. We charge nothing for an initial consultation and we only get paid on a contingency basis, so if you don't get paid, then we don't get paid.