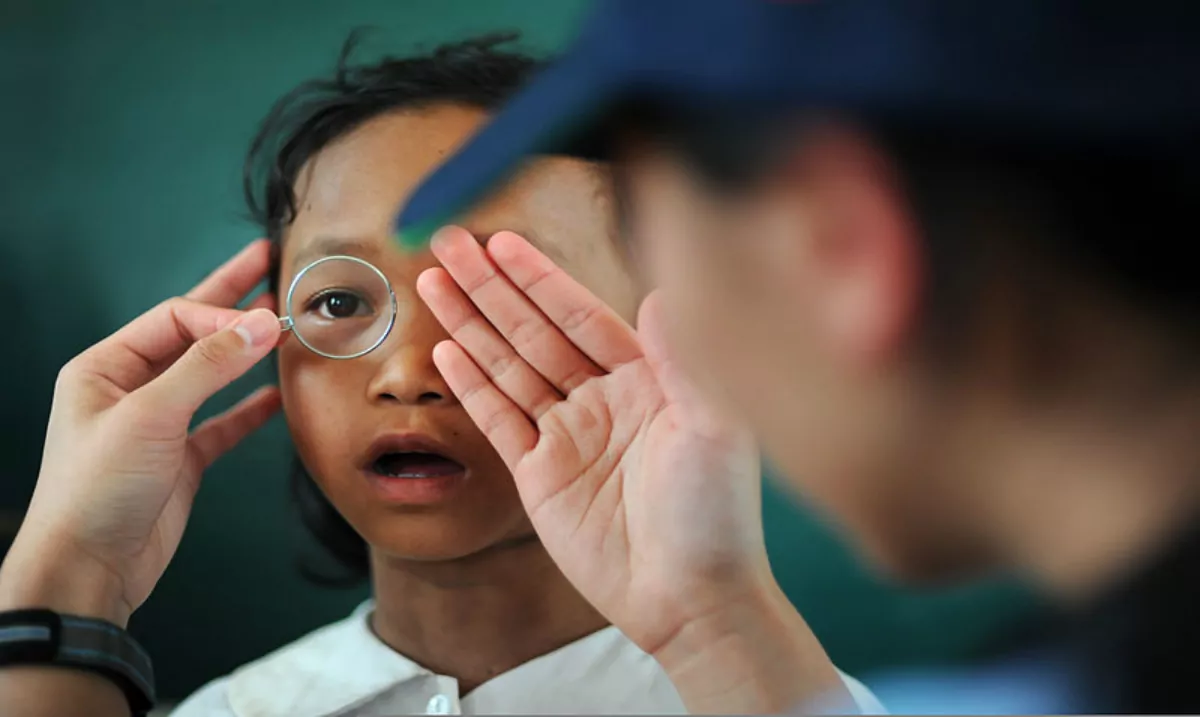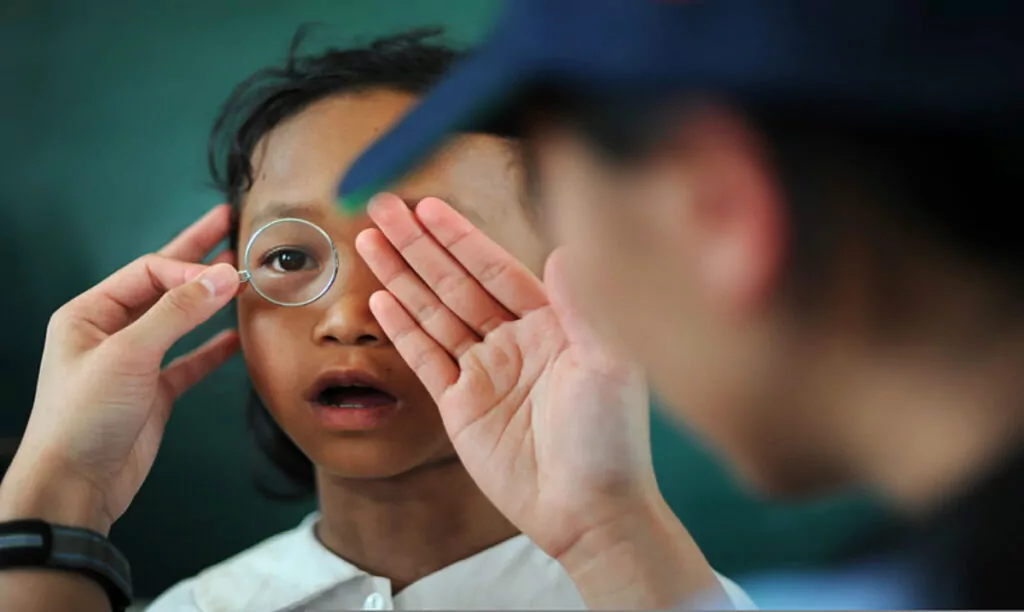 Make sure your children have regular checkups at the eye doctor, and ask them regularly whether they have trouble seeing the board at school, the computer, TV or books when reading. (Wikimedia Commons photo)
Children sometimes don't have as much sense as adults, and when it comes to protecting their eyes kids may need instructions and guidance. We present a guide on how to protect your child's eyesight and what to do if someone negligently injures their eyes.
The National Eye Institute reports on the importance of protecting children's eyes during sports:
"Eye injuries are the leading cause of blindness in children in the United States and most injuries occurring in school-aged children are sports-related. These injuries account for an estimated 100,000 physician visits per year at a cost of more than $175 million.
"Ninety percent of sports-related eye injuries can be avoided with the use of protective eyewear. Protective eyewear includes safety glasses and goggles, safety shields, and eye guards designed for a particular sport. Ordinary prescription glasses, contact lenses, and sunglasses do not protect against eye injuries. Safety goggles should be worn over them.
"Currently, most youth sports leagues do not require the use of eye protection. Parents and coaches must insist that children wear safety glasses or goggles whenever they play."
The National Eye Institute recommend athletes wear eye protection made of polycarbonate, which is 10 times as impact-resistant as other plastics and doesn't obscure or reduce vision. All kids need eye protection while playing sports, not just kids who wear glasses or contacts. If your child athlete has vision in just one eye or has a history of eye surgery or injury, it's doubly important for them to wear safety glasses or goggles.
How to Protect your Child's Eyesight
Kids' Health gives other eye-health and protection tips for children, outside the sports arena, including:
Tell kids not to throw sand or rocks at people as it may injure their eyes.
Don't run with a pencil or scissors or anything with a point on it.
Parents should ask their children if they can see the board in class, and ask if the television or text they're reading is blurry.
Take a break every 20 minutes from the computer, TV screen or a book so your eyes get exercise and don't become over tired.
Tell kids to turn on the lights when they read, especially when it starts to get dark.
Kids should wear hats and sunglasses when it is sunny and bright.
Keep the sunscreen away from kids' eyes. It stings and burns them.
Wear glasses if the doctor has prescribed them, and don't wear other people's eyeglasses.
Don't look at the sun or other bright lights as they can damage eyes.
Don't rub your eye if you get something in it. Tell your children to ask an adult to help them if they get something in their eye.
Buy kids toys appropriate for their age, without sharp edges, and avoid buying toys that shoot projectiles.
Buy toys marked "ASTM" (American Society for Testing and Materials).
Don't let kids play with pellet guns or BB guns. And don't let them play with fireworks. In fact, keep them far away from all fireworks.
Keep chemicals and sprays locked safely or high up, out of the reach of small kids.
See the eye doctor for regular checkups and eye health and sight exams.
Injuries in School
While most schoolteachers and administrators are great people, sometimes tragic things happen to children at school. A school's staff and faculty have a duty to do everything they can to make sure students are safe and protected.
Children have rights under the laws of California and the United States if they are injured in school or a day-care facility and someone in charge was negligent or didn't act with reasonable caution to provide a safe environment.
Past lawsuits in California have established that schools can successfully be sued for damages in case a child is injured because of negligent supervision.
Should you Sue Over Eye Injuries?
In case of a child's eye injury or even blindness, Krasney Law in the Inland Empire can help a family recover damages, including for medical expenses, pain and suffering and possible loss of future income because of blindness or severe vision loss.
Other areas of the law and eye injuries concern defective or dangerous products such as contact lenses, drugs with pathogens that can infect the eyes, toys, fireworks and many other types of products and situations.
If your child has an eye injury or sight loss, we urge you to immediately seek the help of a doctor. When the immediate emergency has passed, it very well could benefit you to contact an attorney to seek compensation and damages if someone else was negligent with regard to your child's eyesight.
Krasney Law: Free Consultation
At Krasney Law: Personal Injury Specialists in San Bernardino and the Inland Empire, we can discuss the laws concerning your case, how to proceed with insurance companies for medical expenses and whether your case is right for a lawsuit. If your child was injured because of someone else's disregard for safety or because of lack of adult supervision, your case very well may be a candidate for legal action.
We collect no fees unless your case goes to trial or there is a monetary recovery. Also, the initial consultation with one of our personal injury attorneys is free. Our phone number is (909) 380-7200. Or you can contact us on the Web: https://krasneylaw.net/contact-us/.