Incredible as riding a motorcycle is, it also comes with some added responsibilities. Bikes are much more susceptible to accidents than enclosed vehicles. Other drivers don't always know the rules of the road. Sometimes, they choose to ignore them. It's up to you to know the laws and the driving methods that help prevent accidents. A motorcycle license gives you the authorization you need to drive alongside other drivers.
Are You Qualified to Get a Motorcycle License?
Driving a motorcycle is a privilege; one that not every person is qualified to enjoy. Simply making the request isn't enough. For starters, you must visit your local DMV in person and complete the following:
A Driver's License or ID Card Application
Pass the California Motorcycle Written Test
Pass a Motorcyclist Training Program or the Motorcycle Skills Test
In addition, you must provide proof of your identity and pay the $35 motorcycle license endorsement fee.
Before you get your motorcycle license, you will first get a learner's permit. This permit allows you to practice driving your motorcycle prior to taking the driving test. However, driving with a permit, you are not permitted to drive at night, on the freeway, or with a passenger.
You must be 16 years of age to get a motorcycle license in CA and retain your learning permit for six months before taking the driving test if you are less than 18 years old. For applicants 18 and older, you must pass a vision examination and a knowledge test. You will also provide a thumbprint and have your photo taken. A motorcycle driving license is not just proof of your driving skills; it provides the state with a record of who is driving dangerous equipment on their roads!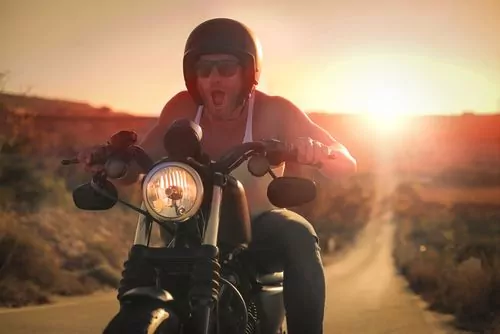 How to Get a Motorcycle License in California without a Driver's License
You don't have to have a driver's license to get a motorcycle license in California. You will need to complete all the requirements listed above. In addition, applicants under the age of 21 years must complete and provide certification from a completed motorcycle rider training course. Applicants over the age of 21 can either provide certification from a completed motorcycle rider training course or schedule an appointment at the DMV and take the motorcycle driving test.
Additional documents you need if you don't have a California driver's license include:
An Acceptable Identity Document
An Acceptable Residency Document
Your Social Security Number
Your True Full Name
If you aren't sure about any of the document requirements, contact the DMV for verification. You don't want to show up without the documents you need to get your license. If you're transferring your motorcycle and/or driver's license from another state, the DMV will let you know the process. You may need additional documents in addition to your existing license.
What Kind of Motorcycle License Do I Need?
All motorcycles aren't equal, and neither are the licenses you get for driving them. California offers two classes of motorcycle licenses; both M1 and M2. If you want to ride a full-size motorcycle, you need to apply for an M1 license. But when it gets into the classification of mopeds, scooters, and motorized bicycles, it's a little less clear about when you need an M2 license and when you don't.
You might describe a motorcycle as "a vehicle with two wheels and a motor." But the same definition extends to mopeds, electric scooters, and motorized bicycles. It also omits three-wheeled motorcycles. Although all these vehicles have a lot in common, they are different in many ways. Some are more powerful and suited to use on the roads and highways. Others present a greater hazard in traffic. The state of California distinguishes between the different types of vehicles. You need to know whether your vehicle of choice requires an M2 license. If so, you also need to know what privileges and responsibilities come with it.
A Motorcycle
The difference between the different types of motorized bikes comes down to size and power. A motorcycle has an engine that is larger than 150cc. Both two-wheeled and three-wheeled bikes may be classified as motorcycles in California. (One exception is that three-wheeled motorcycles or two-wheeled motorcycles with a sidecar only require a Class C driver's license). The owner of a full-sized motorcycle must register their vehicle and obtain an M1 motorcycle license. An M1 license also allows you to operate mopeds, motor scooters, and motorized bicycles without getting an M2 endorsement.
Motorcycles are the full-size, powerful vehicles that riders use for transportation, recreation, and pure enjoyment. There are different styles of motorcycles, too. Some are more appropriate for road use, while others are suited for more adventuress locations. The requirements for an M1 driver's license are the same, no matter where you ride it.
Adventure Touring Bikes
These bikes have sporty styles designed for riding off-road. They aren't intended specifically for highway use or for paved roads. If your goal is to ride in competitions or go trail riding, an adventure touring or dual sport bike is a good choice for your needs.
Dirt Bikes
Dirt bikes have features that make them ideal for riding off-road. They generally have heavily-treaded tires and minimal frames and bodies. Dirt bikes have a 'cool' appearance and they are made to ride hard and get dirty.
Motocross Bikes
These bikes are similar to dirt bikes with the features that make them ideal for motocross events. They are capable of making tight turns and jumps, and work on outdoor courses and indoor arenas.
Cruisers
These bikes are a hybrid of a basic motorcycle style and a chopper. Many people like the laidback style that is a little less extreme than that of the chopper.
Enduro Bikes
Enduro Bikes were designed for off-road competitions during the day or nighttime. They typically come equipped with taillights and headlights, along with the option for timers and roll chart reading devices. Like dirt bikes and motocross bikes, they can handle rough terrain. They are also made to withstand high levels of abuse.
Choppers
Choppers are highly recognizable for the front wheel that extends into the front and the reclined seats. Many have a lot of chrome, which creates the stylish look that always gets attention. If you want a bike that stands out, there are lots of choppers out there to choose from.
The Moped
A moped is a two-wheeled or three-wheeled vehicle that reaches no more than 30 mph on level ground. It has fully operative pedals and a motor that produces less than two hp of power. It also has an automatic transmission. You must register the moped, and you must wear a helmet. The driver must have either an M1 or M2 license.
The Scooter
A motorized scooter has two wheels with handlebars, a floorboard for standing, and a motor. You don't have to register a motorized scooter but the rider must be at least 16 years old and have an M2 license or permit. They are also required to wear a helmet.
You can ride a motorized scooter on a trail, bikeway, or bicycle path. Scooter riders are prohibited from riding on the sidewalk. When riding on roadways, scooters must ride in bicycle lanes where they exist. When there is no bicycle lane, you can ride a motorized scooter in areas where the speed limit is no more than 25 mph and as close to the right-hand curb as possible unless you are turning left or passing.
A motor-driven cycle with an engine of 149cc or less must also be registered and the driver must have an M1 motorcycle license.
The Motorized Bike
Many states consider motorized bikes as mopeds and clump them together for licensing and riding laws. In California, new legislation stopped the practice of treating electric bikes like mopeds. It further outlined three classes for electronic bikes, which dictates where they can ride. It is important for bike owners to understand the difference between electric bikes and mopeds. A bike that meets the guidelines of a moped is still classified as such. It also requires a license to operate it whereas an e-bike doesn't.
Class I – You must pedal these bikes to propel them forward and they are limited to a speed of 20 mph. These bikes are permitted in all places where non-electric bikes are including bike paths and off-road trails, bike lanes, and streets.
Class II – Electric bikes that have a throttle and function without pedaling. These bikes have a maximum speed of 20 mph and aren't allowed on Class I bike paths. However, you can ride them in bike lanes and protected bike lanes on public roadways.
Class III – Pedaling can increase the speed of the electric drive system. The maximum speed of these bikes is 28 mph and you can ride them on public roads. Riders under the age of 18 must wear a helmet. Riders must be aged 16 or older to ride Class III bikes.
Although electric bike riders may be happy that they don't have to worry about how to get a motorcycle license in California for their electric bike, they should be cautious. While they also don't require registration, insurance, or license plates for these vehicles, standard bike laws apply. E-bike riders must also obey drinking and driving laws and avoid driving while distracted. An accident could end up costing them a lot of money, even if they aren't at fault.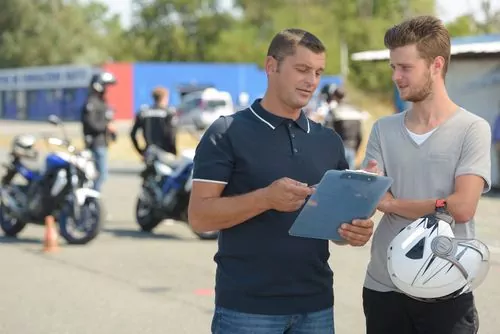 Why a Motorcycle License Is Important
There are thousands of motorcycles on California's roadways at any time. Every motorcycle rider is at a greater risk of being seriously injured or killed in an accident than other drivers every time they enter the highway. There is nothing between them and other vehicles to protect them when a crash occurs. When a crash does happen, the motorcycle driver is more likely to suffer severe injuries.
In 2016, 4,976 motorcyclists were killed in crashes across the country. Most crashes happen when someone disobeys the law. In states where helmet use is not required, motorcycle riders often forego the most important piece of safety equipment they have. Riders without helmets have a three-times greater risk of experiencing traumatic brain injuries than those with a helmet.
California is one of 19 states that requires all motorcyclists to wear helmets. The law extends to both passengers and riders, motor-driven bikes, Class III electric bikes, and mopeds. A new law that would not require motorcyclists to wear a helmet under some circumstances is currently pending. This is one reason why it's so important to know the motorcycle laws and the statistics behind them.
Now that you know how to get a motorcycle license in California, you realize you must pass a written exam. To pass your test, you need to study the guidebook available from the DMV. A motorcycle driving license is more than a piece of paper. It's proof that you've studied the laws and you know how to drive your motorcycle safely on California's busy, and sometimes hectic roadways.
Take the time to make all the right choices. Pick the right style motorcycle for your use and learn as much as possible about preventative motorcycle driving. The more you know before you get your license, the less likely you will be to have an accident that changes your life. A crash between you and another vehicle could end up in a personal injury case.
If you were in a motorcycle crash, contact Krasney Law for a complimentary consultation. Let us help you get the compensation you deserve for your injuries. If you've lost a loved one due to their injuries from a motorcycle crash, we can help. We know your rights and will help you get justice.